SkinTag Organic RemoverPatch
SkinTag Organic RemoverPatch
Skin Tag Remover Patch removes bothersome skin tags and moles painlessly and permanently!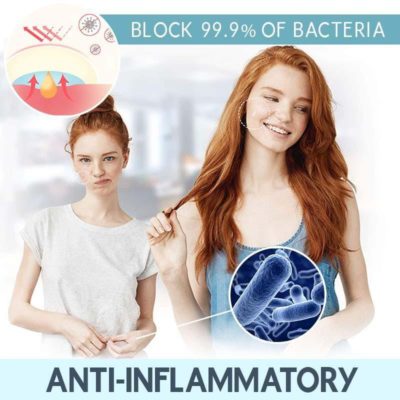 Introducing the best alternative way to conceal and treat skin imperfections in one modest patch.
Organic SkinTag Remover Patch is a MEDICATED ADHESIVE PATCHES that EFFECTIVELY ELIMINATES SKIN TAGS.
It HIDES SKIN IMPERFECTIONS while TREATING THEM. It has ORGANIC INGREDIENTS and HYDROCOLLOID FORMULA that makes a BREATHABLE SKIN ADHESIVE and SLICYLIC ACID that WORKS as an EXFOLLIANT to HELP the skin SHED DEAD SKIN CELLS INSTANTLY.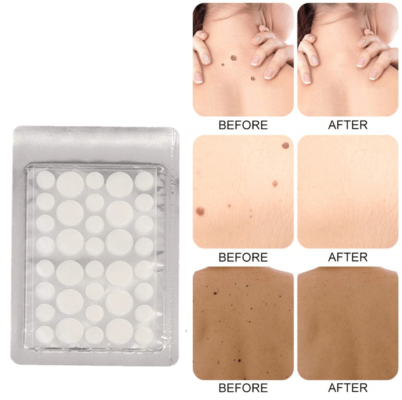 It DIMINISHES INFLAMMATION, RELIEVES SKIN and ACCELERATE the WOUND HEALING.
Organic SkinTag Remover Patch can EFFECTIVELY and PAINLESSLY TREAT Skin Tags and PROVEN to PROVIDE 4X HEALING. It PROTECTS the SKIN from DIRT and POLLUTION. It is INVISIBLE and can be HIDDEN UNDER MAKEUP.
It is 100% SAFE and NON-TOXIC. The PATCH is SUPER ADHESIVE it is PROVEN to be LONG-WEARING. It is IDEAL for ALL SKIN TYPES.
FEATURES:
Completely extract skin tags or moles anywhere on your body. Delivers FAST results in little as 3 days (3-20 days depending on each person).
Give you freedom to remove all your moles or skin tags in the comfort of your home. No more doctors, no more surgery or insurance hassles!
Anti-Inflammatory Healing Effect
Prevent direct contact with dirt, germs and bacteria during the healing process.
Natural tea-tree wound treatment smoothens and repairs skin, preventing formation of scab, scars, even secondary infection.
Our formula is gentle for all skin types and can be used on the face and body.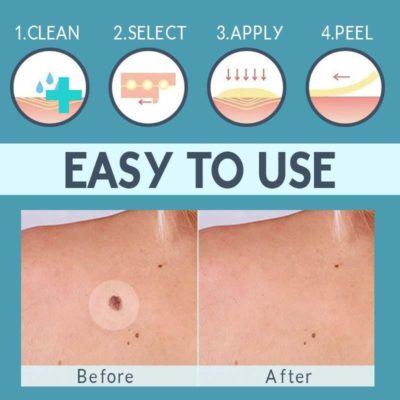 DIRECTION:
1. Clean wound & surrounding area, dry thoroughly.
2. Select the appropriate size of the patch.
3. Apply the patch to the mole or skin tag & press down firmly at the edges.
4. Replace patch as soon as it changes its color to white.
5. Repeat step 4 until wound is completely recovered.
PACKAGE INCLUDES:
36 pcs Skin Tag Remover Patch