Smart LED Waterproof Car Leather Trash Can
Smart LED Waterproof Car Leather Trash Can
Trash can stain your car and create unpleasant odors, this leather magnetic bag is the perfect solution to make your driving experience more enjoyable!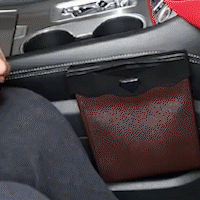 Keep your car clean – The trash bag is handy and convenient way to stay organized while traveling or vacationing. Which can keep your vehicle clean, organized and free of trash. Car organizer waterproof interior, leak proof trash bag can helps keep your car clean & tidy.
Smart LED – The trash bag with LED light on the top of the pocket mouth, and Battery replaceable. Create for remind you close the bag timely to avoid the diffusion of the garbage smell and accurately find the mouth of garbage at night.
Space-Saving – Garbage bag has come in a slim design that is small enough the folding function does not occupy the space.Size:30*30cm(H),You can put waste paper and other small pieces of trash.
Material – Constructed with high-quality artificial leather.The leak proof garbage bag that it can provide maximum strength, durability,and longevity. and easy to clean.