Smart Ultrasonic Decontamination Cleaning Machine
Smart Ultrasonic Decontamination Cleaning Machine
The Safest And Most Powerful Decontamination Ultrasonic Cleaner
The Ultrasonic Cleaning Machine can be used to clean jewelry, glasses, dentures, watches, tableware and other small items. The ultrasonic cleaning machine uses a physical process called cavitation to clean your jewelry. The tiny bubbles are so small that they will penetrate the toughest to reach areas of your jewelry and gently remove dirt from crevices you couldn't even see with the naked eye. The heavy vibrations jostle dirt and grime out of the tiniest crevices inside your jewelry setting and loosen oils tied to skin cells on its surface.
Features
✅Wide application range: Ultrasonic cleaning machine can clean various items, such as glasses, waterproof watches, most jewelry, dentures, waterproof razors, makeup brushes, children's toys, etc.
✅360° three-dimensional deep cleaning: High frequency 360° Omni-directional impact, clean without blind spots. It can easily and quickly remove the dirt in the small gaps of the object without damaging its surface. Let your jewelry or other items shine again.
✅Ultrasonic theory: High-frequency vibration separates the air and water in the liquid, and continuously washes the surface of the object to emulsify and peel off the dust, bacteria, and oil.
✅Usage scenario: The portable ultrasonic cleaning machine is light and compact, suitable for home, office, travel, watch shop, jewelry shop, optical shop, repair shop, etc.
✅Vibration and noise reduction: The bottom of the is equipped with 4 shock-absorbing rubber feet, which can firmly absorb the tabletop and reduce the displacement caused by ultrasonic vibration.
✅Easy to use: Switch buttons, simple and fast, without complicated operations. Opening the cover allows you to observe the clean state of the object at any time.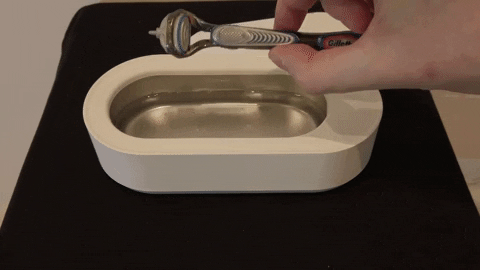 Specifications
1. Cleans quickly and is easy to operate. Add tap water, turn on the switch, and you can finish cleaning items using ultrasonic waves in a few minutes.
2. Multi-purpose ultrasonic cleaning machine. A cleaning machine can be used to clean jewelry, rings, glasses, dentures, coins, makeup brushes, makeup eggs, watches, necklaces, razors, cutlery, retainers, toys, baby essentials, everyday items in life, etc.
3. Portable ultrasonic cleaning machine, the cleaning is more comprehensive. The cleaning machine uses ultrasonic principles to fit and clean every angle of your items deeply.
4. Jewelry, glasses, mother and child products, makeup brushes, and other items where dirt hides in the crevices.  This ultrasonic cleaning machine uses ultrasonic "cavitation effect", high-frequency vibration to deep clean blind areas.
Certification: ROHS
Capacity: >900ml
Power (W): 1w
Voltage (V): 3.7V
Water Shortage Alarm: No
Type: Ultrasonic Cleaner
Requires 2*AAA Batteries
Smart Ultrasonic Decontamination Cleaning Machine
Package Includes
1x Smart Ultrasonic Decontamination Cleaning Machine