SoleSolve™ CloudFeel Acu Insoles
Countless Raves for SoleSolve™ CloudFeel Acu Insoles – The Praises Keep Pouring In !

Imagine Walking on Clouds: Experience Unparalleled Comfort and Softness!
Are you tired of the discomfort and frustration caused by arch pain, heel hurts, swelling like them? We have the perfect solution for you! Introducing our meticulously designed SoleSolve™ CloudFeel Acu Insoles, specially engineered to tackle foot woes, these insoles ensure comfort whether you're walking, running, or playing. Your discomfort ends here, letting you move effortlessly and painlessly.
Insole Neglect: A Gateway to Daily Foot Woes and Odor
Neglecting proper insole can significantly impact our daily lives, leading to various foot woes and odor.
Ill-fitting insole devoid of adequate support, can cause discomfort and pain. Engaging in high-impact activities without appropriate insole or technique further strains the feet, exacerbating the problem. Prolonged exposure to such conditions can result in persistent discomfort and hinder our overall mobility and quality of life.  Inadequate ventilation within shoes prevents proper airflow, allowing odors to accumulate.
How Our Product Helps
U-Shaped Heel Design
With our revolutionary product, the CloudFeel Acu Insoles, you can achieve optimal foot mechanics, unleash your full stride potential, and experience unparalleled comfort. Our insoles feature a unique "U-Shaped Heel" design that ensures the proper drop and rotation of the "pivot point A", located at the big toe joint, in relation to the other metatarsals. This critical movement allows the "Arch B" to effortlessly rise to its ideal position during each phase of the gait cycle.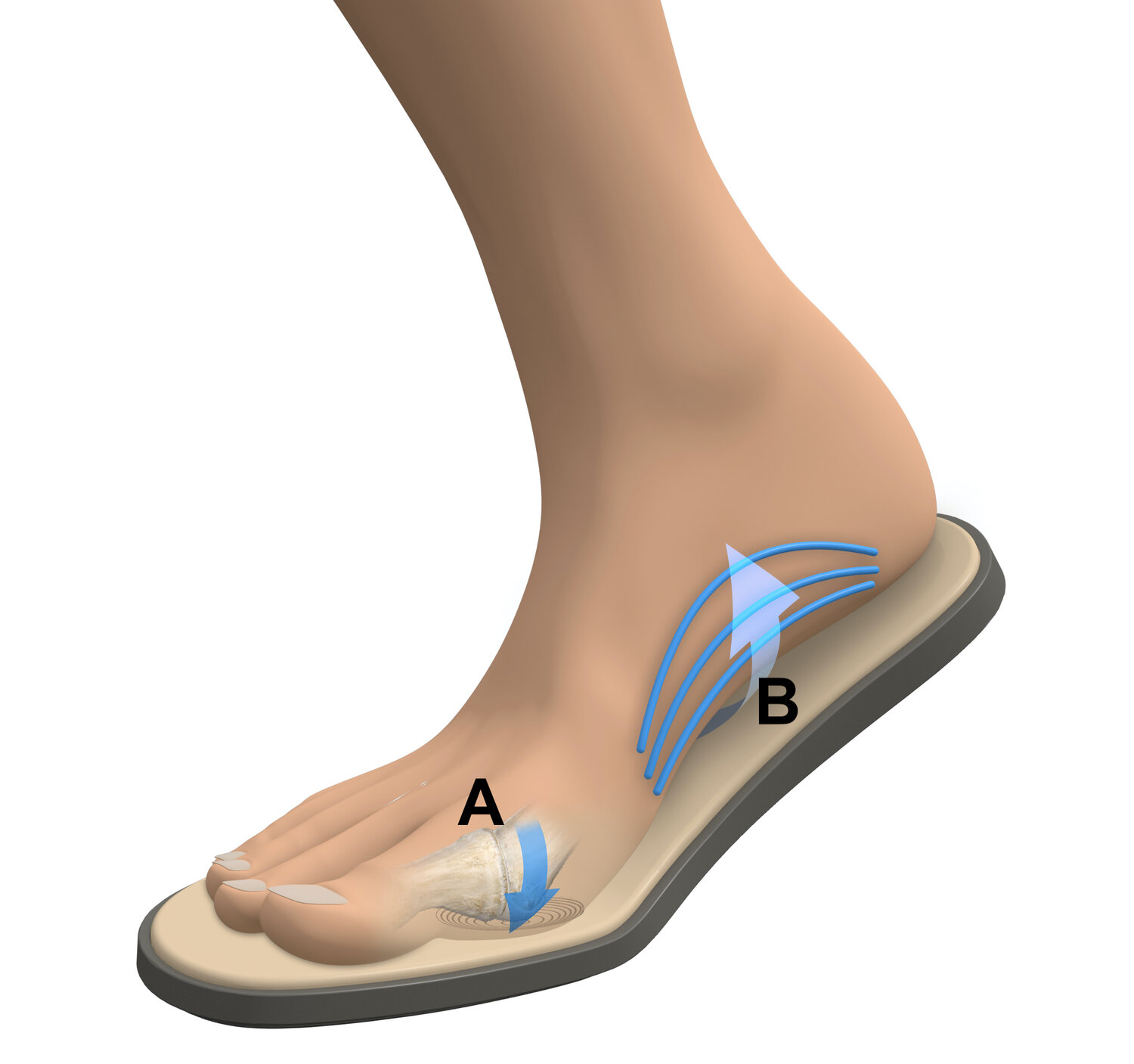 By facilitating the precise drop and rotation of the big toe joint, our CloudFeel Acu Insoles enable your foot to move freely and effectively during push-off. This unrestricted movement not only enhances your foot's natural biomechanics but also promotes a complete lifting of the heel, resulting in a powerful and efficient stride.
Acupressure Therapy
Utilizing unique acupuncture massage, our innovation targets 9 crucial acupressure points, influencing body cells and the colloidal system. This procedure enhances venous circulation, effectively detoxifying and purifying the lymphatic system, resulting in alleviation from swelling.
Circulating Breathable Tech. and Material
Our insoles feature carefully crafted perforations and are constructed using breathable mesh material. This design facilitates increased air circulation, enabling the free flow of air and effectively preventing the accumulation of moisture.
Renowned Podiatrist Enthusiastically Praises our Insoles for their Exceptional Quality and Benefits!
Dr. Howard Dananberg
One of the most influential podiatrists in the U.S. by Podiatry Management magazine
"I am genuinely impressed by the remarkable effectiveness of SoleSolve™ CloudFeel Acu Insoles. The thoughtful combination of acupressure and shock absorption truly sets them apart. As a podiatrist, I wholeheartedly recommend these insoles to anyone seeking relief from foot pain, swelling, and discomfort. The innovative design not only enhances blood circulation but also provides remarkable comfort. It's a pleasure to endorse a product that aligns so well with optimal foot health. Kudos to the team behind this exceptional solution!"
What Set SoleSolve™ CloudFeel Acu Insoles Apart?

Shock absorption
Advanced shock absorption technology and material cushions each step, minimizing impact and providing unparalleled comfort.
Pain relief and Swelling alleviating
Relief form pain and swelling through specialized acupressure, promoting circulation and alleviating discomfort for improved comfort.
Healthier body
Improves circulation, and alleviates foot, knee, hip, and lower back pain.
Comfortable wear
Experience blissful comfort with our insoles' ergonomic design, ensuring a snug and cozy fit for all-day wear.
Odor-free
Stay confidently fresh with odor-fighting technology, keeping your feet and shoes smelling clean and pleasant throughout the day.
Let's See How Other Customers Rave About Our Insoles !!
Specifications
Type: Insoles
Material: EVA
Target User: General Adult
Size: 35-36, 37-38, 39-40, 41-42, 43-44, 45-46
Colour: Orange
Package Includes: 1 x SoleSolve™ CloudFeel Acu Insoles