Sunset Projection Lamp
Sunset Projection Lamp
New arrivals, buy now!
CREATE THE PERFECT ATMOSPHERE IN YOUR ROOM
Are you looking for an excellent way to create a vibe for your photos and room aesthetic? Then this Sunset Projector Lamp is perfect for you! It is a unique projector lamp that will showcase the magnificent beauty of the sunset, the magical light of a rainbow and then make it available inside your room.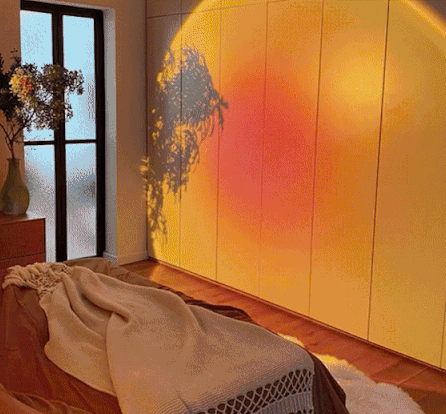 It is relaxing, romantic, and aesthetically pleasing.
BENEFIT HIGHLIGHTS
✔️Create more sunset aesthetics.
✔️Improve your photos and selfie results.
✔️Glamorous lighting.
✔️Improve your relaxation and bliss when relaxing in your home.
✔️Spice up your room a lot better.
✔️Perfect Lamp for meditation, relaxation, and sleeping.
✔️Perfect lighting for home, office, and anywhere you like.
FEATURES & SPECIFICATIONS
✔️It's made of high-quality aluminum that's durable and corrosion-resistant, making it sleek and modern-looking.
✔️There are 16 available color options and 4 color change modes for a more aesthetic experience.
✔️Supports 360° rotation for better lighting.
✔️Lights up with a 10W LED lens for the brightest and most pleasant lighting.
✔️Fully functional remote control with a high level of sensitivity.
Product Inclusion
Smart Bluetooth Sunset Projection Lamp Sunset Projector Night Light APP Remote Led Lights for Room Decoration Photography Gifts
Note:
There are 3 kinds of popular sunset lamp for you to choose:
1. With smart app, controlled by the bluetooth function of your phone, you need to download the app. With music rhythm and timing function. You can adjust the color or dime the brightness on your phone. There is also an IR remote which can also control the light.
2. With IR remote and 4 color filters, more colors can be created with the help of filters.
3. No remote or app, you can change colors by changing filters. There are at least 4 colors you can get.
Sunset Projection Lamp