Therapeutic Men's EnergyUnderPants
A modern and smart underpants that true men must have!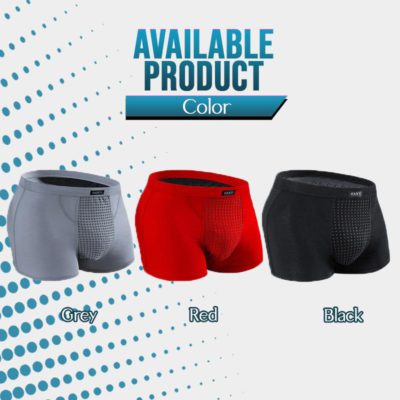 We are so excited to offer you a product that can protect your intimate part but also make you feel extra manly! Introducing the Therapeutic Men's EnergyUnderPants!
Therapeutic Men's EnergyUnderPants is a SMART and INNOVATIVE UNDERPANTS that is SPECIALLY DESIGNED to AID the PHYSICAL and CAPABILITY of a man.
This UNIQUE and MODERN UNDERWEAR is made of HIGH-QUALITY POLYVINYL FIBER FABRIC material that makes it COMFORTABLE and SAFE to the SKIN. It has a 3-DIMENSIONAL U-SHAPED CROUCH DESIGN that PROVIDES an EXTRA ROOM to your private area for a BREATHABLE and RELAXED feeling.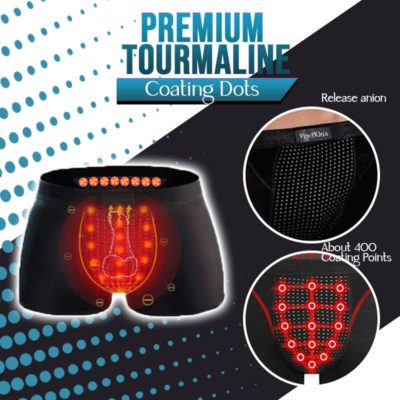 Therapeutic Men's EnergyUnderPants is POWERED with about 400 PREMIUM TOURMALINE COATING DOTS with BUILT-IN MAGNETS that can PENETRATE DEEPLY in to the HUMAN SKIN and PROVIDES the following benefits: Reduces Inflammation, Strengthens Heart Health, Aids Digestion, Lowers Blood Pressure, Detoxify Body, Relieves Stress and Boosts Immune System.
The Magnetic Dots can RELEASE ANION with FAR-INFRARED FABRIC TECHNOLOGY that ENHANCES the SIZE OF THE LOWERSHAFT and INCREASE THE DRIVE FOR BETTER PERFORMANCE. It EFFECTIVELY LOWER BLOOD PRESSURE LEVEL and HELP AID IMPOTENCE and INCREASE the FERTILITY. It also HELPS you LAST LONG in BED as it CONTROLS the SENSITIVITY of your organ, and DELAYS its RELEASE.
Therapeutic Men's EnergyUnderPants is BREATHABLE, LIGHTWEIGHT and GUARANTEED to DELIVER FAST RESULT. It is QUICK-DRYING with its ULTRA-MESH fabric that DOESN'T TRAP Sweat and PREVENT bacteria build up. It is SWEAT, MOIST, and WATER PROOF! It comes in DIFFERENT SIZES: L, XL, 2XL. 3XL, 4XL, and 5XL. It has THREE ATTRACTING COLORS: Black, Red, and Grey.
Specifications
Material: Polyvinyl alcohol fiber (vinylon)
Size: L, XL, 2XL, 3XL, 4XL, 5XL
Color: Black, Red, Grey
QTY: 1PC, 3PCS
Package Includes
1PC or 3PCS x Therapeutic Men's Energy Under Pants