Thoughtfulls for Kids
Thoughtfulls for Kids
Every child needs a little boost sometimes.
Whether your child is dealing with stress and anxiety, struggling with self-esteem, or simply looking for a daily dose of inspiration, our motivational mindfulness cards are the perfect solution.
Even if they aren't dealing with any of it, these cards can still help foster them into happy, healthy, and resilient individuals.
REMIND A CHILD OF HOW REMARKABLE THEY ARE
As the world's original pop-open card, millions of ThoughtFulls have made their way around the globe, creating moments of joy and inspiration wherever they go. Inside each card is pocket-sized positivity to keep or to share!
ThoughtFulls for Kids are a fun way to add extra encouragement and a bighearted boost into a little one's day. Each themed box holds 30 unique sentiments hidden behind a perforated pop-open window, offering a joyful reveal. These adorable cards are like energetic high fives you get to give throughout a child's day.
Whether your child pops open a card at lunchtime or before a big test, each message is a chance to put some extra pep in their step.
Slip under a bedroom door to kick off the day with a smile
Stick on a bathroom mirror to enjoy during daily routines
Hide in a backpack before a quiz or test
Tuck in a lunch box for a midday surprise
Place on a desk after finishing a hard homework assignment
INSPIRATIONAL CARDS: ThoughtFulls for Kids are a wonderful way to inspire a smile. Each box holds 30 spirited messages to encourage and support a child every step of the way. Tuck one into a lunch box, a pocket, or a backpack, and let each hidden message add delight to their day.
THEME – SPARK GOOD FEELINGS: Included in this pack are 2 boxes of ThoughtFulls for Kids — 1 box of You're Amazing and 1 box of I Love You. Each box features 30 cards, each with a unique message to remind a child how much they are loved.
EXAMPLE SENTIMENTS: You're wonderful, exactly as you are. / I love you with a million hugs and kisses.
FEATURES: Each pack includes 2 boxes of ThoughtFulls for Kids, 30 pop-open cards per box, 60 total. Each card has a different uplifting sentiment inside, and the back includes space to write a personal note.
SIZE: ThoughtFulls pop-open cards are small and compact, only 2.25″ x 2.25″; perfect for easy sharing, adding to a lunch box, or tucking away for a surprise.
Set a positive & healthy tone for their day and mentality for life.
Too often our kids leave home without the full confidence they need.
We all need kind words and young ones especially need to hear sentimental words to help guide them on the right path.
Whether it's knowing how loved they are, words to encourage their creativity, or boosting their self esteem. These do the trick.
Designed to inspire, empower, boost their self-esteem, and promote positive thinking.
Each card has a printed message, or you can write your own message
DREAM BIG BOX
Example of Message: The world wants your bright ideas—now and always.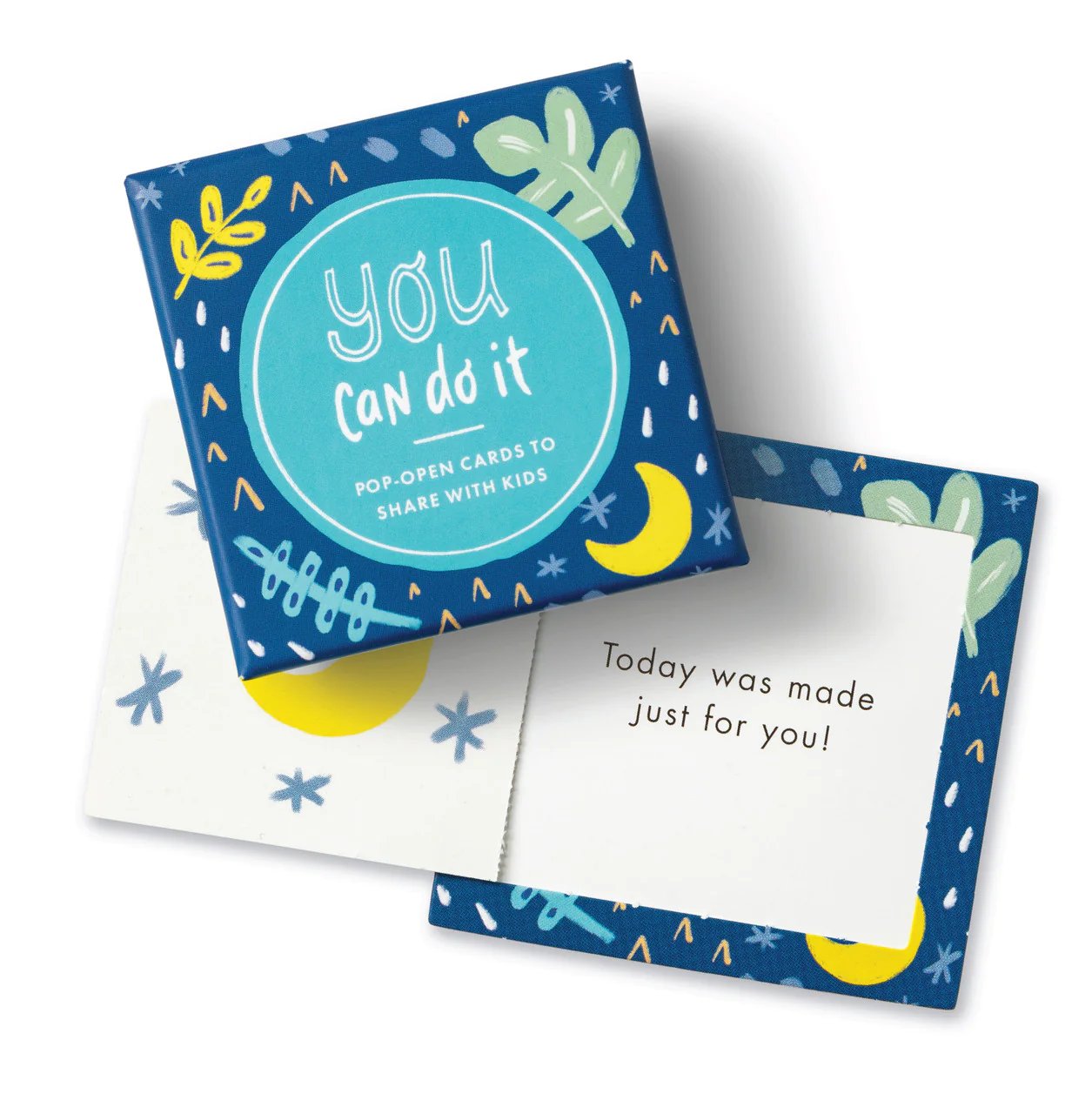 FAQs
How can this help my child?

Our cards are filled with reassuring love messages and motivational quotes to help your child build resilience, develop emotional intelligence, and cultivate a growth mindset.

By practicing mindfulness on a daily basis, your child will learn to focus their attention, regulate their emotions, and develop a sense of gratitude and compassion for themselves and others.

From parents to grandparents to teachers, these cards can be universally given out!
Best ways to share?

You could simply gift them the box and explain the magic within each pull, letting them pull on their accord.

Or we recommend keeping them yourself and whenever you feel is necessary throw one in their lunch box, pocket, or backpack, and let each uplifting message bring joy to their day.

Each card comes with a notes section for you to also write whatever note you like as well!
What ages is this for?

From kids to teens 6-16. We have even seen them given to adults. We all need kind words once in awhile. These do the trick.
Designed with kids in mind?

Our cards are designed with kids in mind, featuring bright and colorful illustrations and easy-to-read messages. They're the perfect addition to your child's daily routine, helping them to start each day with a positive attitude and a growth mindset.
What's inside?

Each box contains 30 messages with concepts based on theme you choose.