TOESTIFF ALL-NATURAL RELIEF CREAM
Does your bunion cause you discomfort and pain? Especially after long hours of walking or standing? Then this relief cream is the perfect solution for you!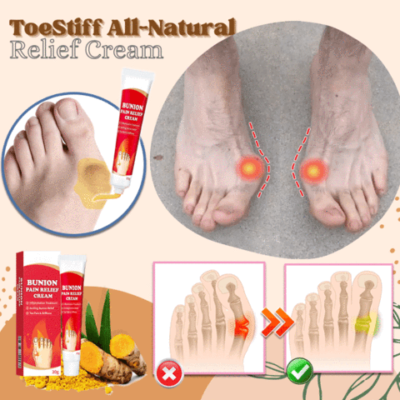 Introducing the ToeStiff All-Natural Relief Cream
ToeStiff All-Natural Relief Cream is an HERABL RELIEF CREAM that EFFECTIVELY REDUCES BUNION PAIN and get you back on your feet and provide you the ULTIMATE RELIEF WITHOUT UNDERGOING SURGERY.
It is made of ORGANIC ingredients that makes it SUPER SAFE and GUARANTEED to have ZERO SIDE EFFECTS. It can EFFECTIVELY PENETRATE the SKIN to SUPPORT, CORRECT and RELIEF your HALLUX VALGUS from STIFFNESS and PAIN.
It also IMPROVES the BLOOD FLOW to HELP EVENLY distribute the PRESSURE across the ARCH, HEEL, and BALL to PROPERLY SUPPORT the THREE POINTS to KEEP SUBTALAR JOINT MOBILIZATION BALANCE.
ToeStiff All-Natural Relief Cream can also be used to aid other JOINT PAINS in the BODY. It is FAST-ACTING and QUICK-ABSORBING. It is COMFORTABLE to the FEET as it is NON-STICKY.
It is PERFECT for both Men and Women. It is Ideal for people who experience stiffness on bunions and feet.