Tube/Pipe Flaring Kit
Tube/Pipe Flaring Kit
Enhance your work efficiency by acquiring a tube/pipe flaring tool. It's durable, easy to use, and efficient for smooth and precise pipe cuts. The tubing cutter comes in handy repair works in electrical, plumbing, or air conditioners applications.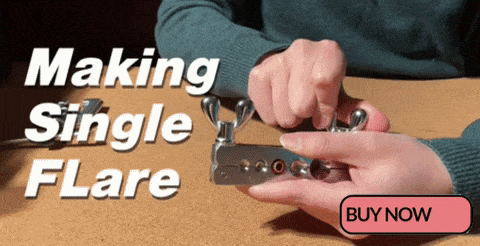 Apply To: The versatile tube Flaring Tool applies to copper, aluminum, brass, magnesium, and other soft steel lines (Not applicable with hard material like steel, iron). Can be used with a brake line, HAVC, air conditioning brass line, and so on. You can use the mini cutter even in restricted spaces where you cannot access and work using other tools. The cutter can be utilized for both small and large pipe cutting work.
Set Include: Double flaring tools & 5 adapters sizes: 3/16-inch, 1/4-inch, 5/16-inch, 3/8-inch, 1/2-inch.
Premium Material: The forged yoke is constructed from premium Heat Treated Steel, and the swivel is made of alloy steel with chrome plating to assist in reducing friction.
Easy Storage: Comes with a Heavy-duty blow-molded carrying case, help to protect and store Various parts conveniently.
After-sales Service: If there's any question about this product, feel free to contact us, we'll give you an exact answer within 24h.