Ultrasonic Ultra Tech Body Shape Bracelet
each your body goal in the healthiest way!
The Ultrasonic Ultra-Tech Body Shape Wristband is the ideal aid for weight loss and body cleansing. It has been found that ultrasound therapy is highly efficient and can quickly help eliminate inflammation and circulatory disorders. This makes them vitalizing and pleasant for everyone.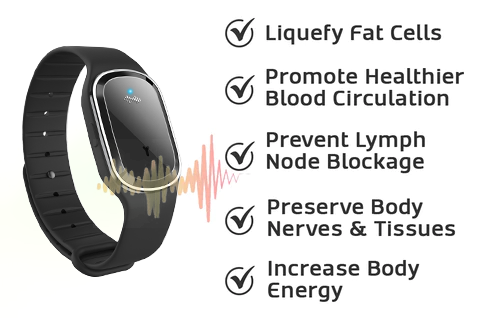 What is UltraSonic?
It is a non-surgical method of eliminating toxins in the body and breaking down localized fat. In this procedure, ultrasonic vibrations are used to apply pressure to the fat cells. Due to the strong pressure, the fat cells dissolve and become liquid. The urine can then be expelled from the body as waste.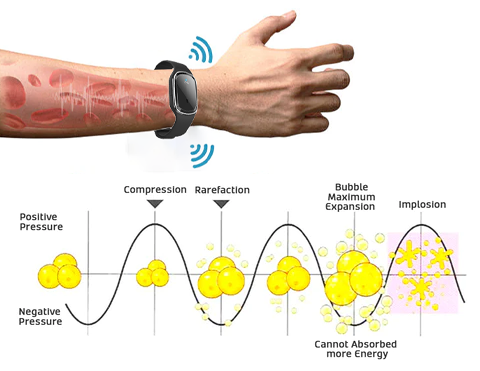 The principle of ultrasonic destruction of fat cells – bubble effect (cavitation)
The small bubbles caused by the ultrasonic vibration only act on the fat cells, and the fat cells absorb the energy of the ultrasonic wave to reach maximum expansion, resulting in their rupturing and crushing.
Ultrasound: liquefying fats
Ultrasound has the ability to penetrate through the skin into the area of ​​fat deposits and kill specific fat cells. Under the influence of ultrasonic vibrations, the fat cells are broken up and liquefied.
Ultrasound: Good blood circulation
The Ultrasonic Ultra-Tech Body Shape Wristband supports blood flow to organs and tissues throughout the body. The waves that the band emits help dissolve blockages (stenosis) and abnormalities such as plaque or embolism.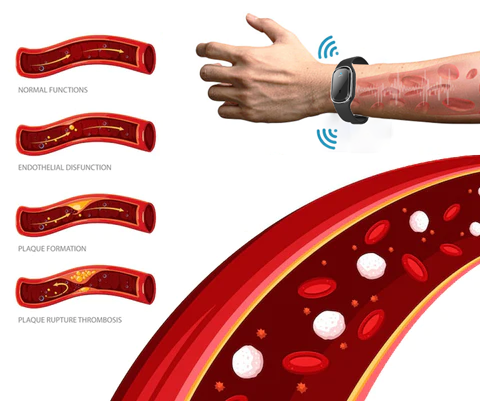 Ultrasound: prevent lymphatic congestion
Ultrasound is believed to benefit our lymphatic system and the effectiveness of our lymphatic drainage. It can aid in our body's detoxification process by allowing the lymphatic system to drain fluids that carry cellular byproducts and other waste much faster and easier.
How Does the Ultrasonic Ultra-Tech Body Shape Bracelet Work?
Uses sound waves with a frequency of 3 to 60 Hz to work while fully protecting blood vessels, neurons, lymphatics, fibrous tissues, etc.
Automatically move and shape, and the shaking is visible to the naked eye.
Benefits of Using Ultrasonic Ultra-Tech Body Shape Wristband
Fixes lymph problems Treats swollen limbs
Eliminates body toxins
Promotes better blood circulation and lymphatic drainage
Helps burn fat and improves weight loss
Uses the highly effective ultrasound therapy
Improves overall health and quality of life
Specification
Sound Wave Frequency: 3~60Hz
Rated power: USB charge
Charging time: about 5 hours
Fully charged for use: one week
Package Includes: 1 x Ultrasonic Ultra Tech Body Shape Bracelet