Volume+ Hair™ Magic Building Fiber Powder
FEATURES:
Instant Hair Boosting Effect
A confident boost, hair building fiber powder that works quickly to seamlessly covers the appearance of thinning scalp, bald spots, and widening hairline. Allowing you to naturally transform and improve your receding tresses into a healthy, fuller look that everyone would envy. What's more? This concealing fiber powder does not only fluff up hair, but it also acts as a great color-treating solution to hide unwanted graying roots in no time.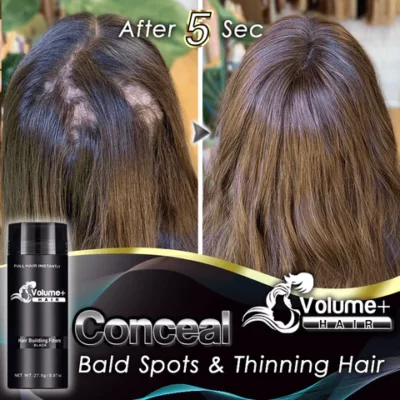 Long-Lasting Performance
This ultimate hair boosting concealer is specially formulated with an impressive staying power that can last from up to a maximum 16 hours. It also adopts excellent waterproofing qualities that can resist rain, sweat, and unwanted splashes. It saves you from the embarrassment of color fading, smudging, and leaching. Providing you an instant effect of a filled-in, thicker hair look all day even on the sweatiest of weather conditions. The hair boosting powder is also lightweight and compact in size so you can easily carry it around for a quick retouch if needed. No worries as it can also be easily removed just by washing up with water and any shampoo.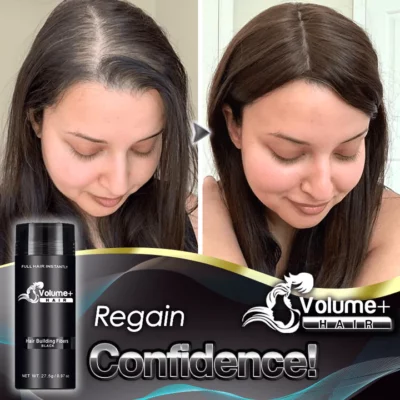 Natural Looking Shades
The fill-in fiber powder provides the highest-quality colored keratin that sticks and blends undetectably with your existing hair strands and scalp. Delivering you with a more natural-like fuller looking finish in just a quick application. It comes in 9 different shades selections so you can freely choose the best color that would match your natural ones. Available in black, dark brown, medium brown, light brown, medium blonde, light blonde, auburn, gray, and white shade that's suitable for both men and women.
Quick and Easy Concealing
This hair building powder offers a mess-free, easy to use bottle that smoothly discharges the formula straight to the scalp and tresses to conceal. Simply shake the bottle first, apply it to the thinning, balding or graying areas, gently pat the hair to disperse and well, and you're good to go. You can use hair styling spray after application for much longer-lasting results. No more messy hair dyeing or complicated wig styling and application.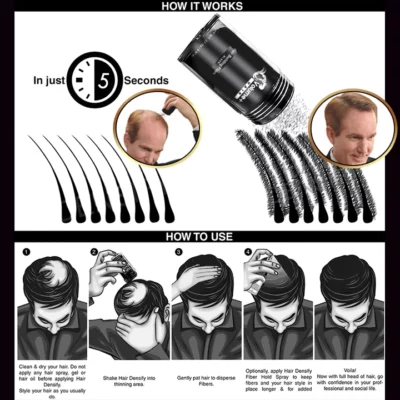 Premium Formulation
Made of professional-grade, hair-loving ingredients with 100% natural keratin protein fibers that boasts an amazing instant fluffing and coloring. It has a non-chemical, pure formulation to ensure your overall safety and hair health. Preventing any harmful toxins from damaging or weakening the strands and causing blockage that leads to unwanted fallouts.
SPECIFICATIONS:
Ingredients: Fatty Acid Triglycerides, Floor Wax, Beeswax
Color: Please refer to the image below
Weight: 0.97 oz (27.5g)
PACKAGE INCLUDES:
1 x Volume+ Hair™ Magic Building Fiber Powder