Wall Climbing Toy
Wall Climbing Toy
They are a cool and funny lil toy that kids would laugh and play with and can hold up pretty good as long as they are playing with them properly.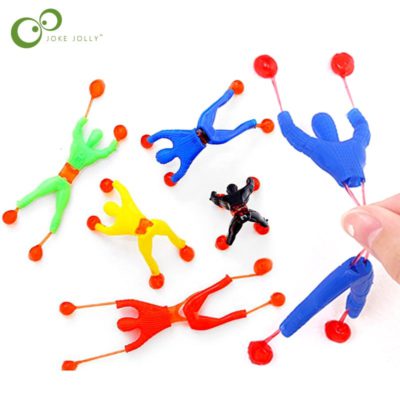 Play, Fling, Flick, And Toss With This!
Watch this go! This adds fun, excitement, and spidey sense to your child's playtime. Fling it to the wall or the ceiling and watch as it clings to the surface and makes its way back down.
Equipped with sticky limbs and a flexible body, this can withstand all types of gameplay. Better yet, this comes in a variety of vibrant colors that will capture any child's eyes.
Features:
Flexible Body – This can withstand excessive stretching, tossing, and falling, thanks to its tough and flexible materials. This way, your child can let loose and be carefree each time they play with this.
Kid-Friendly Design – Rest assured know that this is completely harmless and safe for your kids to play with. Its soft, squishy body, rounded edges, and overall toxin-free materials make it a mainstay in your kids' playroom.
Multiple Colors – The different bright and vibrant colors will capture any child's attention. Your child will never be bored when playing with this.
Perfect for Parties – This is perfect for birthday parties or celebrations. These are fun as prizes or gifts since each set comes with 30 pieces that can be shared with a bunch of kids.