Weight Loss Goods—— Twisting Waist Disc
Weight Loss Goods—— Twisting Waist Disc
Insist on twisting every day, twisting beautiful legs and waist!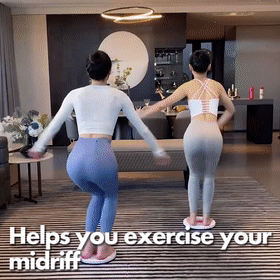 When you are sitting in the office, working, or watching TV, or reading at home, put your feet on the Twisting the waist dish and often massage the reflex area of ??the soles of your feet, which can make you more relaxed.
With this, you can your body vitality, waist while increasing body vitality, two- in- one of fitness and health.
Twisted with the users body weight stepping on the waist turning disc. Fitness exercise, easy to lose fat, a good fitness and weight loss tool!
Made of premium PP and aluminum alloy material for durable and practical. You can carry it to outside too.Easy to use, two feet on the twisted waist plate, rotate the body rhythmically.
Features:
HUMANIZED DESIGN
The key parts of the foot-shaped particle raised design are inlaid with magnets. The three anti-skid pads at the bottom keep stable, and the humanized design of the feet shape makes it more comfortable to step on.
FOOT MASSAGE
The wave disc will massage and stimulate meridian points on the bottom of the feet and help promote good health. The inside is made of solid construction and steel beads, durable to use.
GOOD USAGE
Using this twister plate, you can twist your waist to make your abs, hips, and thighs slimmer, it can also massage the feet and stimulates circulation.
EFFECTIVELY EXERCISE
You can effectively burn calories by using this plate, it is nice that combines the advantages of aerobic exercise with reflexology.
PORTABLE DESIGN
This fitness tool is easy to carry and store, you can use it at home or take it to the gym, now move on for your beautiful figure.
Pecifications:
– Material: PP, aluminium alloy.
– Colour: Purple/Pink
– Size: Approx. 40X40X4. 5cm; 15. 72X15. 72X1. 77in.
Package Including
1* fitness equipment