5-in-1 Handheld Metal Laser Welding Machine
5-in-1 Handheld Metal Laser Welding Machine
The HG500 is a versatile and powerful 5-in-1 welding machine specially designed for home DIY or maintenance projects. It can be used to weld MIG (GMAW), Stick (SMAW), Gasless (FCAW), and TIG (GTAW). The HG500 also allows you to cut at the same time. Suitable for both home DIY and industrial projects.
" alt="" aria-hidden="true" />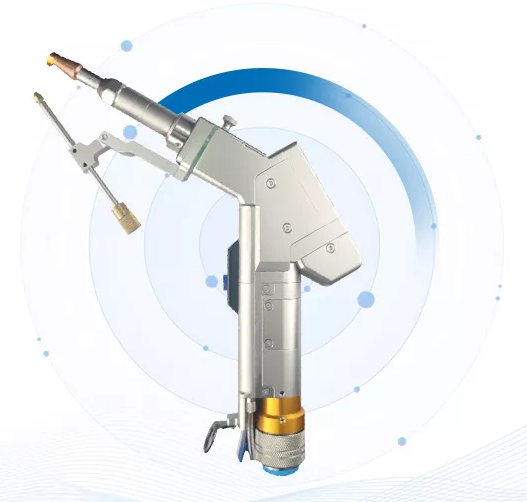 FEATURES
Synergic Controlled on MIG function, very easy and simple operation.
Gas MIG/Gasless MIG/Lift TIG/Stick/CUT 5 in 1.
Can take up to 0.9mm(.035″) MIG solid wire(Gas MIG) and 0.9mm(.035″) MIG FLux wire(Gasless MIG).
Apply to D100/D200 rolls (<10lbs) of MIG wire.
Ideal for 7018/6011/6010 electrode.
Smart Memory & System Reset.
4.3" LCD DISPLAY
4.3" high-pixel LCD control screen that quickly and easily walks the user through setup,smoothly flow through the on-screen menu system and choose the setting.Digital control to choose welding mode, material, welding wires, tungsten rods, electrode and workpiece thickness.Color LCD display easy to read and set amperage and wire speed for repeatable welds every time.
" alt="" aria-hidden="true" />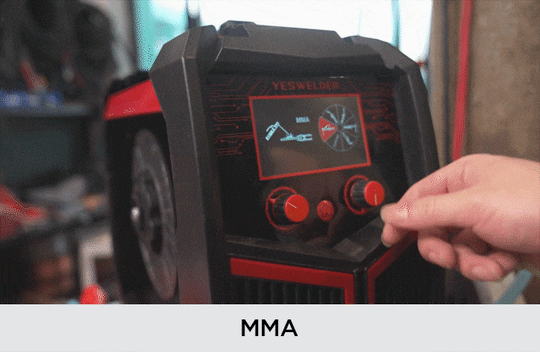 Smooth TIG
Equipped with a TIG torch and easy to scratch to initiate arc ignition.Supplying stable controllable consistent arc, suitable for small or intricate welding projects.Allowing clean and quiet, virtually smoke-free welding with 100% Argon.
" alt="" aria-hidden="true" />
Smart Memory
The smart Memory function allows you to store the voltage and current settings that match your style under memory numbers. The memory number can be recalled to reveal and use the weld parameters stored, and weld parameters can be further adjusted and stored as required. Up to 10 memory options for each type of welding can be memorised and stored for recall.
" alt="" aria-hidden="true" />
Stick Welding
It has an advantage for stick welding. It includes a voltage reduction device ("VRD"), which improves your safety when stick welding by reducing the open circuit voltage ("OCV") to safe levels. As soon as you strike an arc, the OCV will rise to the necessary levels to keep the arc going. But, when you are not welding, the OCV will drop to about 7V. The VRD function prevents accidental operator electrocution in wet, damp, and cramped areas.
" alt="" aria-hidden="true" />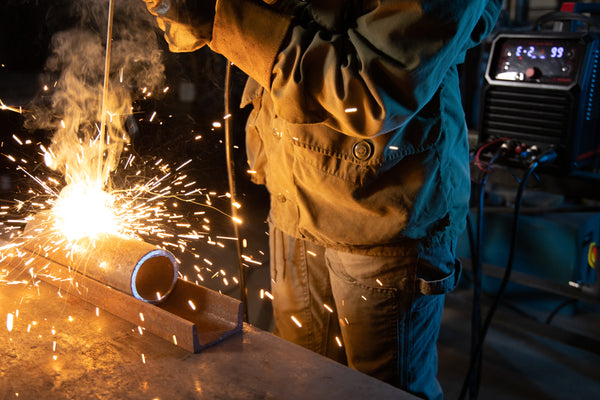 " alt="" aria-hidden="true" />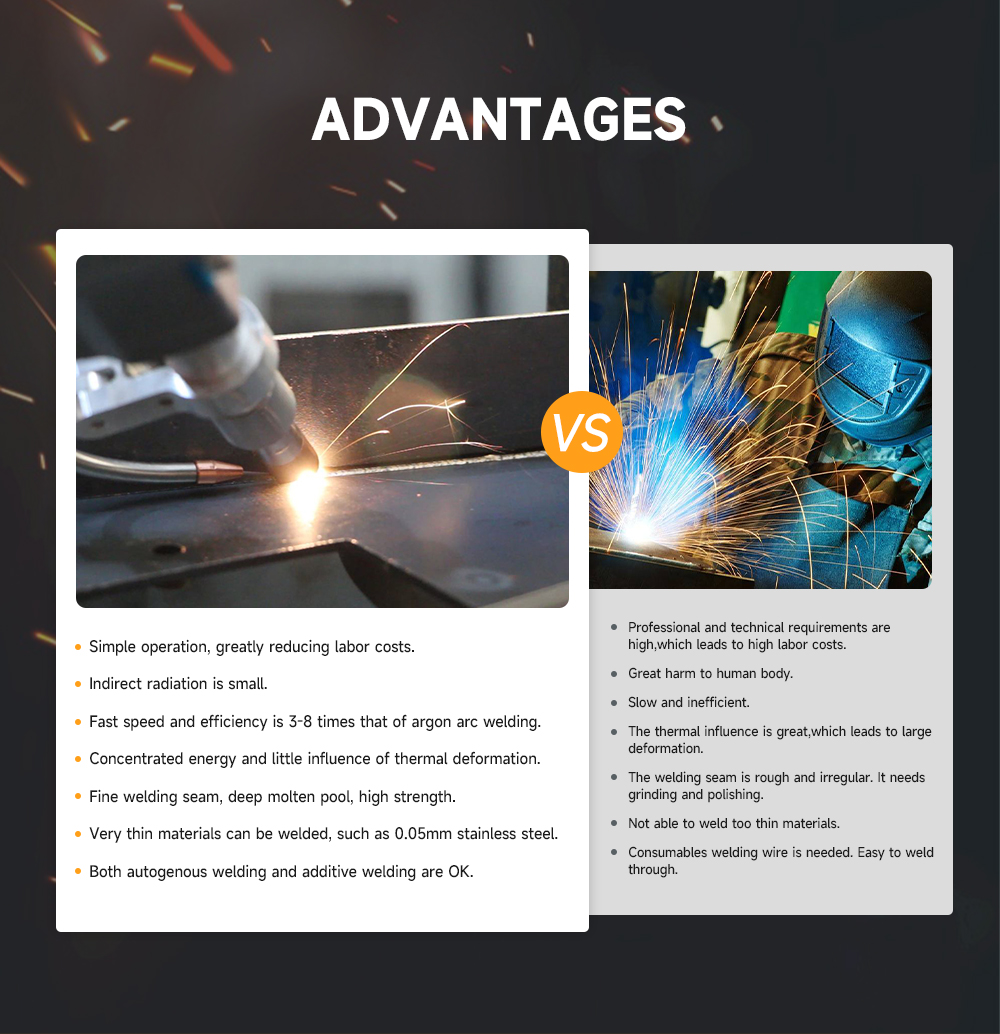 Multi-Uses
" alt="" aria-hidden="true" />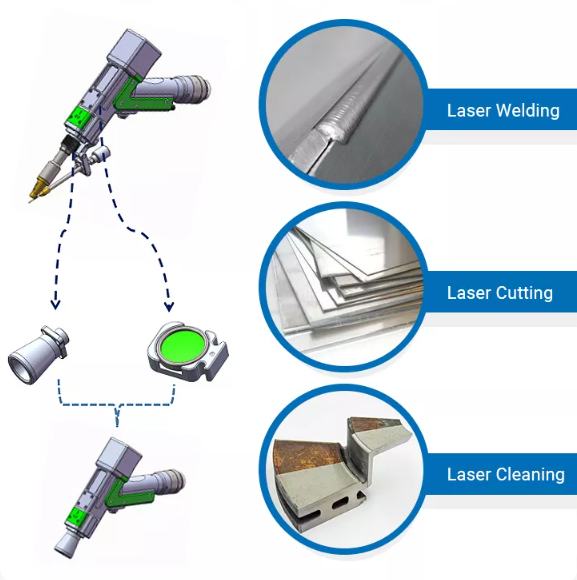 SPECIFICATION
Product weight: 28.55lb
Product Dimensions: 20.08″*11.02″*6.10″
Supply Voltage: 110V/220V 50/60 Hz
Input Current:  45A@110V,  30A@220v
Output Current: 20-160A (MIG/TIG/STICK)  20-30A (CUT) @110V; 20-200A (MIG/TIG/STICK) 20-40A (CUT) @220V
Duty Cycle:
110V: MIG/TIG/STICK 60%@160A, 100%@123A
220V: MIG/TIG/STICK 60%@200A, 100%@154A
CUT:  60%@30A, 100%@23A@110V, 60%@40A, 100%@30A@220V
" alt="" aria-hidden="true" />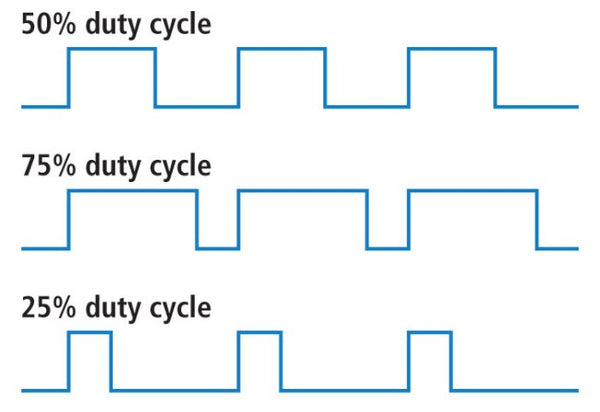 Air Compressor Recommendation:9-12CFM@ 78PSI.
Pre/Post Flow Time (CUT): 10s
Can apply to 2 and 10 pound rolls of wire, .030″/0.35″.
Welding Material: Carbon Steel, Stainless Steel.
Protection Class: IP21S
" alt="" aria-hidden="true" />