Glostik Tooth Gloss
Glostik is a pearlescent tooth gloss designed to make your teeth instantly whiter and brighter for a picture-perfect glow. Makeover your smile in seconds, leaving you ready for every close up.
Non-invasive whitening
Brightening & glowing effect
Easy on-the-go application

The Glostik Tooth Gloss Teeth Whitening Essence is formulated to erase stains and whiten your teeth without damaging the enamel and gums.

It is formulated with active ingredients that gently yet effectively remove stubborn stains and all kinds of dirt deposits that brushing alone can't get rid of.
This whitening essence erases surface stains and discoloration without the sores that you can potentially get from mouthwash, damaged enamel from bleaching, and the hefty price tag that comes with laser treatments.
——— ———- ——— — User's Reviews ——————————
Katherine King, USA

I love both the formula and packaging of the Glostik Tooth Gloss Teeth Whitening Essence! This product features a small brush at the tip, which makes it super convenient and easy to "paint" the whitening essence formula directly onto the teeth in an even coat without being messy. Plus, it works! It gets rid of the yellowish stains. If you're looking for a teeth whitener that you can do at home, this stuff will give you the most bang for your buck.
Naomi Barker, UK

The Glostik Tooth Gloss Teeth Whitening Essence is amazing! I didn't expect it to brighten my teeth in as little as 2 uses! I apply the solution on dry teeth and leave it on for a certain period undisturbed. After rinsing my mouth, I noticed the gleaming almost immediately! The best part is it doesn't cause sensitivity.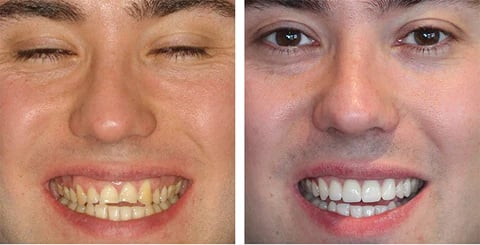 Eleanor Fisher, AU
I have sensitive gums, so I prefer clean or gentle formulas for dental hygiene. Although my teeth are starting to look more stained as the days go by, I steered clear from whitening products because they tend to sensitise my teeth and gums. After contemplating and reading glowing reviews, I finally gave in and decided to try the Glostik Tooth Gloss Teeth Whitening Essence. It does the job without damaging my gums! The whitening effect is instant! Glad I finally found the whitening product that ticks all the boxes.
Smoking, poor dental hygiene, and daily consumption of coffee, wine, sodas, and certain foods that can stain your enamel can turn your pearly whites into yellow teeth over the years. If professional whitening treatment is too expensive for you, the Glostik Tooth Gloss Teeth Whitening Essence offers an at-home solution for a brighter smile minus the tooth sensitivity.
Your smile's finishing touch.
Experience the ultimate finishing touch to every look with Hismile's Glostik. Wearing Glostik makes your smile look instantly full-of-life, with a white, glossy finish.
Similar to lip gloss, tooth gloss works by reflecting light to make your teeth appear whiter and give your smile the glow it deserves. The pearlescent glossing formula that covers your teeth creates an instant whitening effect.
Move over lip gloss.
One swipe of the instant whitening wand gives your smile more to love with a red carpet glow. Add life, colour, and glow to your smile with Glostik.
How & when should I use Glostik?
Before use, thoroughly dry teeth. Apply a thin layer of Glostik from top to bottom on each tooth, using long, even strokes. Once applied to all teeth, close mouth to smooth the product evenly across the teeth. Glostik can be reapplied as needed and used as often as desired. It is perfect for on-the-go touch-ups and getting ready for special events!
What's included?
1 x Glostik. Total Net Contents: 4ml | 0.13 fl oz.
Full ingredients list
Hydrogenated Polyisobutene, Methyl Hydrogenated Rosinate, Silica Dimethyl Silylate, PPG-12/SMDI Copolymer, Titanium Dioxide (CI 77891), Mica, Silica, Sodium Acetate.