7 Day Ginger Organic GerminalSerum
The fastest, safest, and all-natural way to regrow hair for a younger and healthier hair.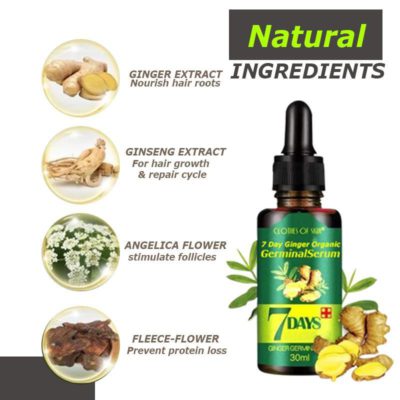 According to studies, 80% of men experience hair loss. Are you one of those men who are frustrated with the slow growth or hair loss?
We have the best solution for you as we introduce you the 7 Day Ginger Organic GerminalSerum
7 Day Ginger Organic GerminalSerum is an INNOVATIVE and EFFECTIVE OIL product that is SPECIALLY FORMULATED to REPAIR DAMAGED HAIR whether from CHEMICALS or NATURAL elements and HELP to INCREASE HAIR GROWTH and BRING BACK the LOSS HAIR.
POWERFUL ALL—NATURAL INGREDIENTS
This MIRACLE SERUM is COMPOSED of POWERFUL HERBAL INGREDIENTS such as Ginseng Extract and Ginger Extract that ACTIVATES the SCALP and ADDS STRENGTH and NUTRITION to the SCALP THEREFORE GIVING BIRTH to a NEW HAIR GROWTH SUCCESSFULLY.
The Fleece-Flower Root Extract, Angelica Extract, Soy, Wheat Germ are ALL KNOWN to TREAT your HAIR with RICH NOURISHMENT, STRENGTHEN the HAIR ROOT'S NUTRITION. It ACCELERATE HAIR GROWTH 5X RAPIDLY and PREVENT SPLIT-ENDS, HAIR FALL and BALDNESS, and CURE and PROTECT the SCALP.
SAFE AND EFFECTIVE WITH FAST RESULT
SUPER SAFE and GENTLE to HAIR and SCALP which is PERFECT for ALL HAIR and SKIN TYPES. We can GUARANTEE to TRANSFORM your HAIR into THICKER, STRONGER, and MORE HEALTHY-LOOKING in just 7 DAYS!
7 Day Ginger Organic GerminalSerum can have your hair thicken 30%-40% meaning TWICE the RESULT in half the time. Our serum is also PERFECT for GROWING FACIAL HAIR like Mustache, Beard, Sideburns, and more.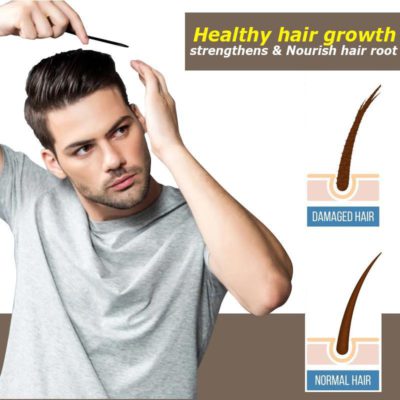 VERY EASY USAGE:
Apply the serum where you want to grow your hair.
Massage the hair roots and scalp using your fingers for 2 to 3 minutes
Apply on wet hair two times a day (morning and night) for a more desirable result.
SPECIFICATIONS:
Main ingredients: Ginseng extract, Ginger extract, Fleece-Flower Root extract, Angelica extract, Soy, Wheat germ
Net weight: 30ml