Astronaut Decorative Galaxy Lamp Projector
Astronaut Decorative Galaxy Lamp Projector
Are you due for some well-earned rest?
Just want to lay down after a draining day at work and let your mind drift off? Or maybe you've got kids who hate bedtime and throw tantrums every night?
Well, just wait until you see what we have in store for you!
There's something about a starry night that realigns our spirit and puts everything into perspective again. Research has shown that galaxy projectors provide a non-pharmacologic solution to stress, anxiety, and discomfort. Picture this, you're lying down in your favorite spot on a warm summer evening, looking up at the gorgeous night sky filled with billions of stars without a cloud in sight. Can you feel the serenity and comfort this brings you?
Astronaut Decorative Galaxy Lamp Projector is a revolutionary decorative piece that will let you experience the feeling of floating stress-free in the immensity of the universe, every day, in the comfort of your own home.
Rotating Head
Fill any room with mesmerizing spotlights, just point the face in the direction you wish.
Deep Relaxation
Unwind and relax in a calming environment. Experience a deep relaxation feeling like never before.
Fall Asleep Faster
Helps you fall asleep faster. Put your kids to bed in no time and enjoy a relaxing evening with your partner beside you.
Remote Controlled
Control all settings (effects, brightness, and timer) from the other side of the room without having to get up from your spot.
Variety Of Modes
Choose between 8 galaxy effects and control the speed of the movement and the brightness of the light. You can either display the galaxy only, the stars only, or both at the same time.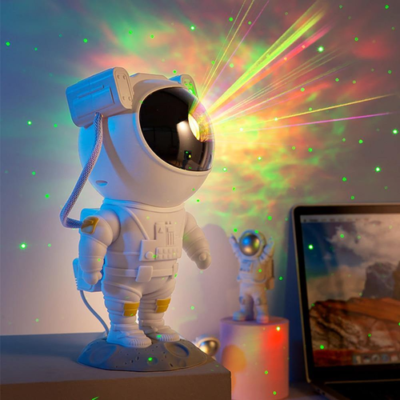 Set Timer
Choose between a timer of 40 mins or 90 mins and fall asleep stress-free in a billion-star resort.
Feature:
1. A variety of nebula effects are displayed, the speed and brightness of the nebula are adjustable.
2. The brightness and speed of the stars are adjustable
3. Nebula and Starlight can be used at the same time or separately
4. Two timing modes: 40min, 90min
5. The projection angle can be adjusted at will, easy to use
6. Can be used as a projection lamp, but also as a high-end ornament
Package Included:
1 X Night Light
1 X Remote Control
1 X USB Cable
1 X Manual