Contour Gauge Tracing Precise Tool
Contour Gauge Tracing Precise Tool
A simpler and more effective way to copy any shape instantly. Precisely create instant templates for curved and irregularly shaped objects.
No more guesswork! No complex operations! Start accurate shape duplicating with Contour Gauge Profile Tracing Tool!
Precise Shape Duplication: An easier way to duplicate various shapes, ideal for tiles fitting, laminate and carpet cutting, ceramic and tool mold taking, etc.
Adjustable and Locking Feature: The tightness can be adjusted according to your needs. It is especially suitable for drawing the outline of irregular and complex objects. It can be locked and fixed after each adjustment to ensure precision accuracy. 
Both Ends Can Be Used: Designed with pulley end and pointer end, both ends can be used. Smoother drawing with pulley end, while accurate and easy drawing with pointer end. The pencil clip can be moved up and down, which is convenient for exchanging the shape end. 
Easy to Use: Simple operation namely pushes namely draw, one-handed adjustment. Fix the pencil in the middle, pushing while drawing, easy to draw the lines without error.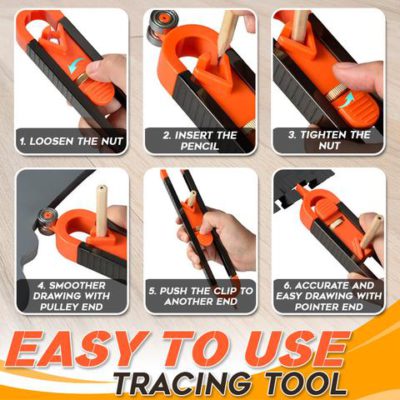 Package Include: 1 x Contour Gauge Profile Tracing Tool