Bakerina Stencil Storage Book
Tidy Up Your Baking Stencil with Storage Book Today!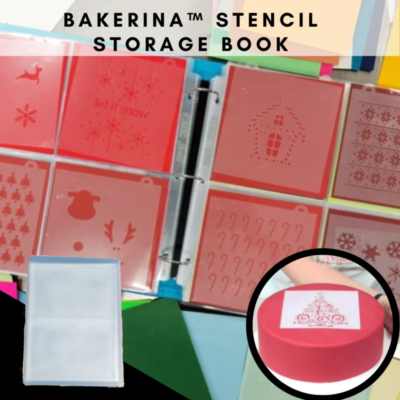 Struggling with how to organize your baking stencil?
Bakerina Stencil Storage Book can easily store up your stencil neatly and perfectly organized!
Perfectly Organized & Convenient To Use
It is a better alternative to store your baking stencils. Simply slips stencils into the card slots.
Clear Transparency
It is made of high-quality transparent plastic which clearly displays your stencils, letting you easily & quickly pick out the stencils you want & start your baking decoration! 
Well-Organized Storage
This storage book enables you to allocate your stencils according to its patterns & able to find it in seconds! You can include notes about the stencils as well!
Large Storage Capacity
It comes with many card slots, keeping all the stencils individually sealed & dust-free.
Making the baking stencils tidier & more beautiful!
The Best Way To Store Your Baking Stencils! 
Grab Yours Now!
---
PRODUCT SPECIFICATION
Material: Pvc
Acceptable Stencil Dimensions: 
6 Grid:  9x9cm/10x10cm Stencils
2 Grid:  12.7×17.8cm Stencils
Package Inclusion/s: Choose Your Bundle.. 
1 PC of 6 Square Grid Bakerina Stencil Storage Book
1 PC of 2 Grid Bakerina Stencil Storage Book