BoatFix Canvas Repair Tape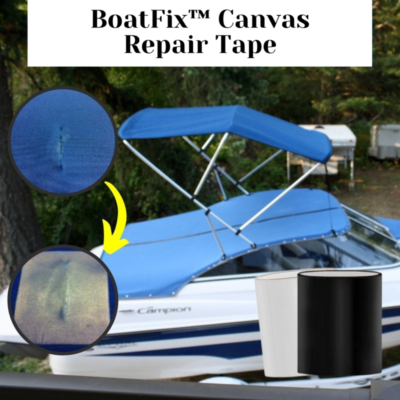 Instantly Repair Boat Canvas With Ease!
Repair Rips In Canvas
BoatFix Canvas Repair Tape  is thick, durable, and creates a watertight seal making it a highly effective boat seat repair tape, boat awning repair tape, sail repair tape, camper awning repair tape. It works great to reinforce the seams of a canvas sail, and for boat tarp repair.
Waterproof & Weather Resistance
BoatFix Canvas Repair Tape  is waterproof tape that stands up to the heat and sun. This canvas tarp and boat repair tape create a water-tight patch that resists the elements and can be used to fix a variety of items that have torn or need reinforcement!
Durable & Flexible
BoatFix Canvas Repair Tape  is easy to use and repairs rip quickly. It's great to have on-hand in an emergency kit on your boat so you will be ready to repair tears on the spot!
Easily Repair Your Boat Canvas Without Hassle!
Get yours now!
---
PRODUCT SPECIFICATIONS
Material: Collodion
Colors: Black or Transparent
Size: 10cm & 20cm
Package Inclusion/s: 1PC Boat Fix Canvas Repair Tape