Biancat™ Natural Herbal Hair Color Shampoo
What is special about the Biancat™ Natural Herbal Hair Color Shampoo
√ Easy coloring: Wash your hair as usual, wait 15-20 minutes, the color pigments will quickly combine with the hair. Then rinse out to achieve the perfect coloring result.
√ Gentle Care: Repairs damaged hair, nourishes hair follicles and promotes hair growth.
√ Long-lasting color: The shampoo offers an intense color that lasts long and does not fade easily.
√ Gentle on hair: Natural and gentle herbal ingredients that won't irritate the scalp. Safe and reliable.
√ Rich pigment and great shine: You get intense colors with just one wash. The hair becomes supple and shiny.
√ Rich color choices: A variety of colors to choose from, there is sure to be one you like.
Natural plant Ingredients: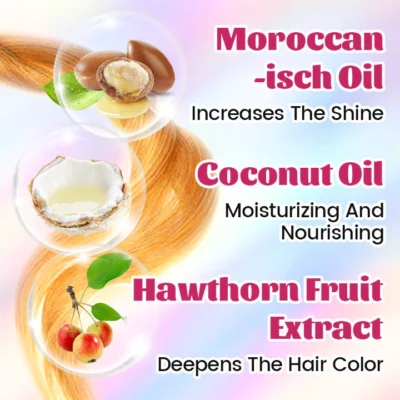 Moroccan oil can add natural shine to hair, making it look healthier and smoother. Moroccan Oil also forms a protective barrier to help lock in color-treated hair and make it last longer.
Coconut oil is rich in fatty acids that penetrate deep into the hair fiber, nourishing and moisturizing it. Additionally, coconut oil has a soothing effect on the scalp, which can reduce itching and dryness, especially after coloring your hair.
Crabapple fruit extract not only brings natural shine to the hair, but also deepens the color of the hair. Utilizes the natural nutrients of crabapple fruit to make hair look healthier and revitalized while imparting deep, long-lasting color to strands.
How to use:
1. Wet hair and apply shampoo.
2. Leave on for 15 to 20 minutes, then rinse.
Specification:
Colors: Grey, Green, Red, Purple, Blue, Orange, Gold, Light Brown, Chestnut Brown, Pink
Net weight: 100ml
Ingredients: Moroccan Oil, Coconut Oil, Crabapple Fruit Extract, Water, Cetearyl Alcohol (from Mixed Vegetables), Stearyl Alcohol (from Vegetables), Glycerin, Behenyltrimonium Chloride, Butylate Oil.
Package Includes: 1 x Biancat™ Natural Herbal Hair Color Shampoo