Creative Spring Foot Funny Cat Stick
Creative Spring Foot Funny Cat Stick
Every cat likes to entertain, and hope to have interactive games and company with the owner.
【Ideal Toy for Cats】This cat teaser wands are the perfect toy for exercise and mental health for your cat. It is the perfect way to tease and entice your cat to play, your lovely cat will have tons of fun chasing, pouncing, and biting by this kitty wand toy. This interactive cat wand can arouse cat interest, so you two can have a happy time and promote the relationship with each other.
【Safe and Healthy】 which is safe, non-toxic , durable and eco-friendly. Unlike other cheap cat toys, our cats wands are more intimate and safer, even if you're not around, you can place this toy anytime, anywhere, without worrying about cats swallowing and health. It will help to increase exercise & keep fit healthy, great way to keep your cat fit and happy!
【Usage】This product can be installed on the top of the shoe, and the product can be swayed irregularly through the feet and springs to attract the cat's attention, allowing the cat to bite feathers, chase and other activities, increase the cat's exercise capacity, and enhance physical fitness and intelligence
【Steps for usage】After passing the two Velcro tapes through the corresponding holes on the main body respectively, fold the tail of the barbed fiber in half and stick it to the appropriate soft fiber part according to actual requirements. Insert the funny cat ball feather into the hard hole plug on the top of the spring, and then directly sink the bottom of the combined spring into the card hole of the toy body to directly interact with the cat.
【100% Satisfaction Assurance 】Supet team focus our mind on pet supplies, our mission is to let all pet owners enjoy every second with their pets! We offer a LIFETIME ASSURANCE for each product, If you have any questions about the product, please feel free to contact us so we will help you to solve it within 24 hours.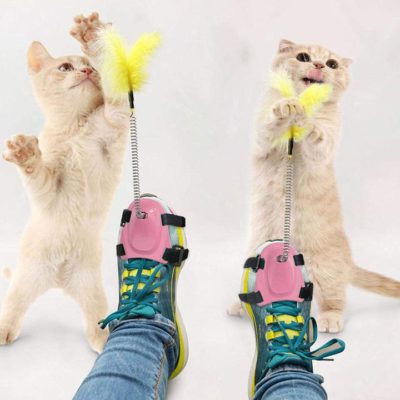 PACKAGE INCLUDE:
1 x Creative Spring Foot Funny Cat Stick