Defender™ Narrow Stainless Steel Bird Spikes
Defender™ Narrow Stainless Steel Bird Spikes
Have you ever experienced bird droppings dripping on your head as soon as you go out?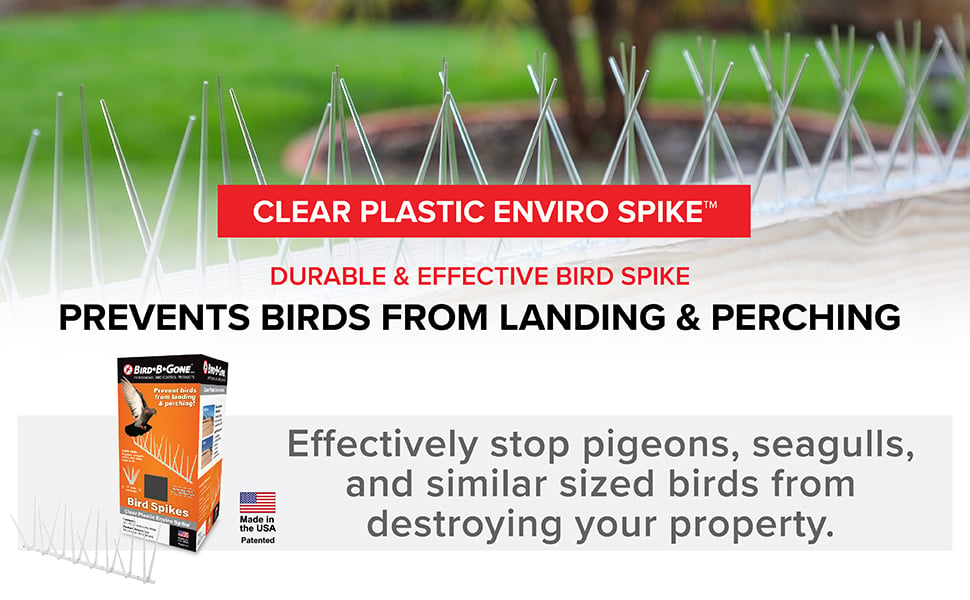 Stainless Steel Bird Spike has been tried and tested on ledges that have a depth of 2.5 cm to 7.5 cm (1 to 3 inches). This durable, high-quality bird spike is suitable against even the heaviest pigeon infestations. It is a humane product and will simply make the pigeon move on, without injury, to an alternative roosting or nesting site.
Features
【Long Life Expectancy】– Narrow Stainless Steel Bird Prevention Spikes are made from 304 Grade steel wires which protrude from a super tough Durolon UV Stabilised Polycarbonate base. This hard-wearing bird spike will triumph in all weather conditions
【STAINLESS STEEL SPIKES】– Physical barriers are the most effective way to keep birds off. Wherever applied; they eliminate the ability to land and perch. Stainless Steel Spikes install easily with Spike Adhesive, nails, screws or ties. Block birds from landing anywhere! Provides 100% protection on rooftops, ledges, fences, and more!
【High density nail strips】– can deter birds and other animals from landing and sitting, it contains many bird species, large and small, such as pigeons, sparrows, starlings, crows, gulls, swallows and small reptiles such as squirrels.
【Easy to install】– The base has UV-protected polycarbonate for easier installation. Glue, enables quick and easy application. Wear protective gloves when handling and installing your bird sticks. Keep away from children.
Safe for birds & humans!
Bird-Flite spikes are blunted to avoid injury to birds or unsuspecting workmen. Since birds typically hover before landing, they are deterred and left unharmed.
Remember, spikes are not for nesting birds!
Birds have a natural instinct to reclaim their spots. Nests in particular have a lot of pheromones that the bird uses to recognize their home. This is what we call imprinting. When you put spikes over their nesting sites, birds will build right over them. As you can see in this photo, it doesn't matter how many spikes were placed. The resident birds we're going to reclaim their spot. Remember, don't use spikes to solve nesting birds!
Rod Material : 302 Stainless Steel, 24 per foot
Base Material: Polycarbonate
Width: 3.1″ ( 8 cm)
Height: 4.3″ (11 cm)
Length: 9.8″ (25 cm) per piece
PACKAGE INCLUDES:
12 * Narrow Stainless Steel Bird Spikes
---
Note
Due to manual measurements, please allow slight measurement deviations.
Due to the different display and lighting effects, the actual color of the item may be slightly different from the color displayed on the picture.