(🌲Early Christmas Sale- SAVE 48% OFF)Detachable Electronic Measuring Spoon
(🌲Early Christmas Sale- SAVE 48% OFF)Detachable Electronic Measuring Spoon
Measure ingredients precisely. Make it easy to follow the recipe!
Main Features
HIGH PRECISION SPOON ELECTRONIC SCALE:
Utilizes a high precision sensor system, overload indication, the max weight measuring up to 500g, accurately in increments of 0.1g. An accurate scale can make your meal more delicious.
4 DIFFERENT UNITS:
MODE function allows you to switch among different units. Unit of measurement: g, oz, gn, hold function will lock or unlock the weight readout.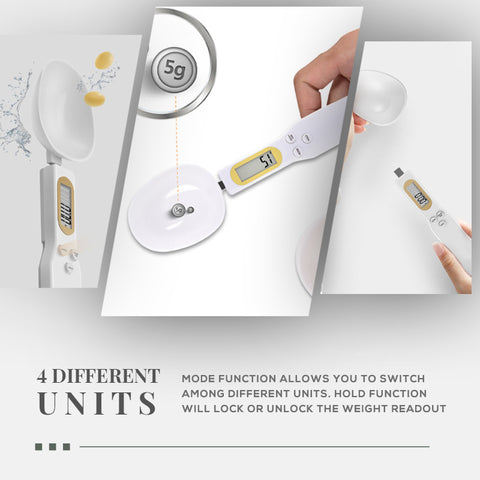 WITH TARE FUNCTION:
Lower battery, overload indication. Auto shutoff saves battery life. Easy to navigate
WIDE APPLICATION:
Practical tools to measure the weight of flour, milk powder, butter, cream, edible oil, weigh both solid and liquid ingredients.
Easy to clean, easy to store
Usage Scenarios
Having a spoon scale for your kitchen is one of the most practical tools for foodies, dieters, and home cooks. Widely used in lab, industry as well.
(🌲Early Christmas Sale- SAVE 48% OFF)Detachable Electronic Measuring Spoon
Spezifikation:
Produktname: High-präzision wiegen löffel
Bildschirm: LED display
Wiegebereich: 0.5 g-500g
Batterie: 1 x CR2032 taste batterie(Nicht enthalten)
Einheit: g/oz/gn/ct
Abschaltung zeit: über 2 minuten nach keine bedienung
Feature:
1. es ist eine präzise skala innen die messlöffel, die können verwendet werden, um messen verschiedenen flüssigkeit und pulverförmigen backen zutaten wie mehl, puderzucker, sirup, kakao pulver, milch, ei flüssigkeit und so auf.
2. hohe präzision, bequem und einfach verwenden prozess, abnehmbare, bequem für reinigung und lagerung.
3. große LCD screen display macht es einfacher, um daten zu lesen, schalter zu werden, anpassung an verschiedene situationen, lange drücken sie die power-taste, drücken sie kurz die tara funktion, schloss die wert nach dem wiegen, und vermeiden wiederholt wiegen.
Paket Enthalten:
1 X High-präzision wiegen löffel (Batterien nicht enthalten)