Feminine Full Effect Vital Innergel
Feminine Full Effect Vital Innergel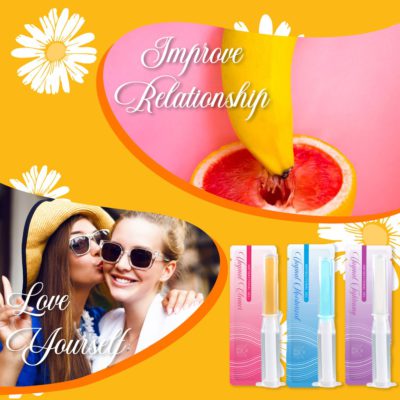 Suitable for cervical inflammation, vaginal congestion and edema caused by vaginitis, increased secretions, odor, itching, pus-like symptoms can also reduce the degree of local inflammation, reduce the cervical erosion surface.
Relieve Monthly Periods Symptoms
All-Natural Supplement formula that is the ultimate women's probiotic. This Nature formula with powerful antioxidants to help protect your body from free radicals. It helps support immune health and urinary tract detox. Glycerin based natural tightening agent.
Vaginal Flora Can Be Altered by Monthly Periods, Sweat, Semen, Tight Clothes and/or Vaginal Infection Resulting in Embarrassing Vaginal Odor. So Small Changes in pH of the Fluids (Think: Semen and Period Blood) in the Vaginal Canal Can Impact Vaginal pH, As Well As the Balance of Bacteria and Yeast in Your Vagina.
Helps eliminate painful intercourse, dryness, and as a daily moisturizer. Non-toxic, non-staining and naturally therapeutic.
It works amazingly to detox, tighten and rejuvenate female reproduction system in a natural and safe way. s. Bringing balance and relief back to your vagina letting you live a happiness life.
Balancing Vaginal Gel, Stop Feminine Odor, Support Healthy Bacteria & Yeast Balance. Hygienic disposable individual packaging. Convenient to carry, easy to use.
HOW TO USE
1. Wash your hands
2. Tear off product package
3. Open the top cover
4. Remove cleaning cover
5. Cleaning cover pushed into the capping area
6. Insert gently into the vagina
Specification
Safety Information
Keep Out of Reach of Children. Do not use if safety seal is damaged or missing. Store in a cool, dry place.
Not suitable for Pregnant Women / Virgin, After period to use our product
Note: Will excrete metabolic waste from the body after use
3g/ 1PC
Product Included
3* Feminine Full Effect Vital Innergel (included 1*Tightening Gel, 1*Detox Gel, 1*Moisturiser Gel )
6* Feminine Full Effect Vital Innergel ( included 2*Tightening Gel, 2*Detox Gel, 2*Moisturiser Gel )
9* FeminineFull Effect Vital Innergel ( included 3*Tightening Gel, 3*Detox Gel, 3*Moisturiser Gel )