Lunar Humidifier AromaDiffuser
"GREAT HUMIDIFIER FOR SMALL SPACES. 3 DIFFERENT LIGHT TONES AND 2 MIST SETTINGS. VERY CUTE AND QUIET. REQUIRES 1-2 REFILLS PER DAY AND MIST TURNS OFF AFTER A FEW HOURS."
⭐⭐⭐⭐⭐ – Kim L. ✅Verified Buyer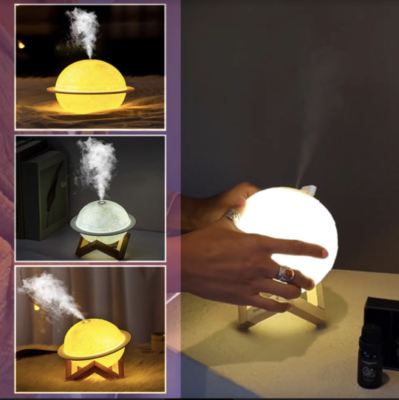 PREVENT DRYNESS INSTANTLY!
Humidifiers add moisture to the air and help prevent irritation on many body parts. It can treat dryness of the throat, nose, skin, and most importantly, lips.
This Planet Shaped Humidifier will do just that!
This Planet Shaped Humidifier is a unique humidifier that is also a lamp. It will add ambiance to your room and transform it for good. It is not a simple humidifier only–it is 2 in 1!
💡HIGHLIGHTS💡
✅Unique Shape Design – This Planet Shaped Humidifier is what its names imply, a planet design humidifier made of ABS plastic and silicone. These materials are durable, flexible, strong, and bring a distinctive taste to the overall quality of the product.
✅Multipurpose – This product not only helps you get the moisture your body needs but can also be a moon lamp. It has three night light modes you can choose from: yellow, white, and a combination of the two. The shine of this moon lamp is so mellow you would be able to relax fast. Just add some essential oils for smell, and you will be lounging like you are in a spa.
✅Perfect House Decoration – Due to the unique design of this Planet Shaped Humidifier, you can use it as a decoration that shines and awe anyone who happens to see it. It is moon-shaped, with a light halo, and together with its mellow lighting, you can be sure to amaze anyone who sees it.
✅Perfect Gift – Aside from its beauty and usefulness, this humidifier is also durable and of premium quality. It will be an ideal gift everyone would love to receive due to the quality it portrays.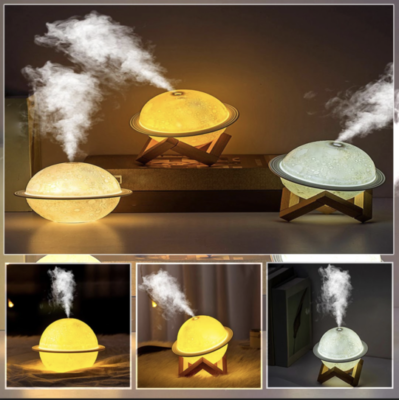 🔴 SPECIFICATIONS 🔴
MATERIAL: ABS & SILICONE
DIMENSION: 138 * 105MM
🔴 PRODUCT INCLUSION 🔴
1 X USB HUMIDIFIER
1 X CHARGING CABLE
1 X COTTON SWAB