HuntHide Mirror Film
HuntHide Mirror Film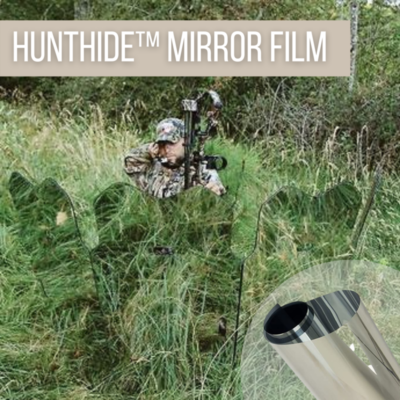 Completely Stay Concealed While Hunting!
DIY Your Own Mirrored Hunting Blind!
Simply stick HuntHide Mirror Film on plywood, acrylic panels, or others materials (depends on your preference). Hunt Hide Mirror Film is a must-have DIY ground blind for complete concealment!
Perfectly Reflects Earth Floors & Natural Surroundings!
Hunt Hide Mirror Film reflects surroundings to create thousands of camo patterns to keep you hidden from deer, turkey, and other game. Hunt Hide Mirror Film is extremely versatile and will keep you concealed no matter the environment!
Durable & Easy To Clean
Hunt Hide Mirror Film is waterproof & easy to wash. Hunt Hide Mirror Film can present great reflective effects even during tough weather. It's also lightweight & weather-resistant unbreakable material!
How To Use
The Ultimate Assistant Tool For Every Hunter!
Get Yours Now!
---
PRODUCT SPECIFICATION
Material: Polyethylene Terephthalate (PET) Film
Color: Silver Mirror
Option: SET A (30cm*100cm)
SET B (50cm*100cm)