Infrared Hidden Devices Detector
Hear It Directly from Our Global Users
"I booked a luxurious suite in Vegas for a girls' trip with my teenage daughters. We had planned for a fun evening, but just as we were getting comfortable, Seurico™ detected not one, but three hidden cameras.
The immediate support we received from the hotel management and the security provided by Seurico™ turned a potential nightmare into a swift resolution. I won't ever travel without it." – Bobbie Krebs
"When my daughter decided to study abroad in Paris, we celebrated her new journey. But soon, stories of students discovering hidden cameras in dorms and rentals reached our ears.
I sent her a care package with the essentials, including Seurico™. Within the first week, she and her roommates found a hidden camera in their shared living space. She thanked me for the 'unexpectedly essential gift' and has since recommended it to all her friends." – Jarrod George
How Does Seurico™ Work?
Seurico™ utilizes LED infrared physical laser scanning technology. By emitting infrared light that harnesses the combined power of camera glass mirror refraction and filter filter to sieve out intricate light, it identifies hidden cameras with unmatched accuracy.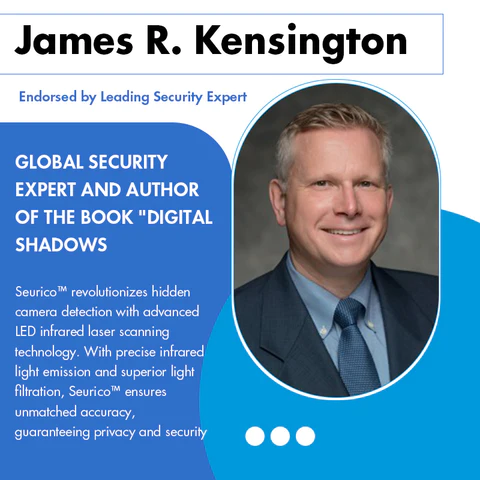 Endorsed by Leading Security Expert
A Seal of Approval from James R. Kensington, Global Security Expert & Author of 'Digital Shadows: Protecting Your Privacy in the Modern Age'
"In my three decades in the security industry, I've witnessed firsthand the evolving challenges of privacy invasion. Today, as technology becomes more advanced and invasive, the threats are more covert, and our privacy is increasingly at risk, especially during our travels. Having rigorously tested Seurico™ in a variety of scenarios—both simulated and real-world—it has consistently outperformed its peers. Its precision, reliability, and intuitive design make it a crucial asset for anyone who values their privacy."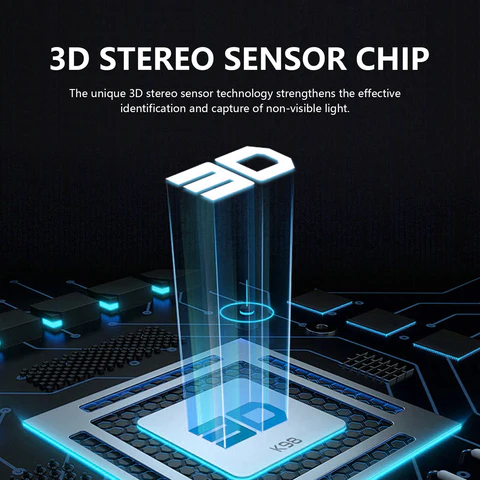 Stereoscopic 3D Sensor Chip
With its stereoscopic 3D sensor chip, it boosts sensitivity by over 90%, tripling the capture efficiency and fortifying detection of non-visible light sources.
USB Fast Charge
Its USB fast charge ensures 720 hours of standby. When in detection mode, the battery supports a full 24 hours of operation. Say goodbye to the woes of frequent battery replacements.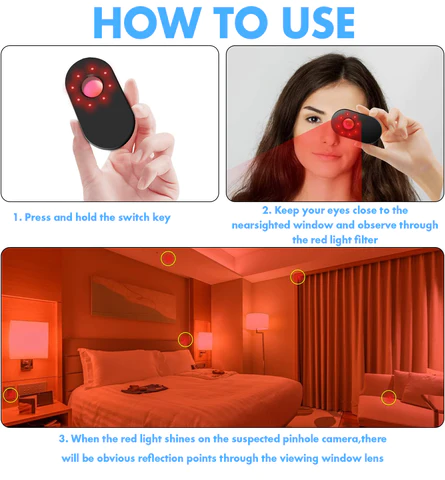 Protect Your Privacy with a Glance
Turn on the detector switch, press and hold the power button, the red light flashes, and the infrared scanning begins. Scan through the viewport using special filter lenses. If there are red reflections, you can press the button again to adjust the flashing frequency to confirm hidden suspicious items.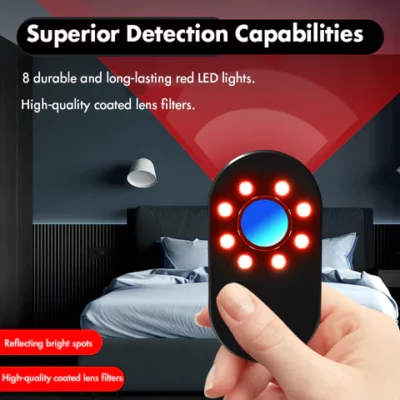 Superior Detection Capabilities
Equipped with 8 robust red LED lights and high-quality coated lens filters, Seurico™ ensures that camera lenses reflect clearly as bright spots in the viewing window, making them easy to find. Sweep any space, from your office to your hotel room, and bust all hidden devices including pen cameras, clock cameras, and lighter cameras.
Travel-Friendly Design
Its pocket-sized design lets you carry it anywhere, ensuring you can protect your privacy no matter where you are.
Frequently Asked Questions
How does Seurico™ detect hidden devices?
Seurico™ uses LED infrared physical laser scanning technology. Through the dual action of camera glass mirror refraction and a specialized filter, it scans and pinpoints hidden cameras. Its stereoscopic 3D sensor chip enhances the sensitivity to more than 90%, ensuring a comprehensive sweep.
How long does Seurico™ last on a single charge?
Once fully charged, Seurico™ can standby for an impressive 720 hours. In active anti-candid mode, it functions continuously for up to 24 hours, negating the need for frequent battery replacements.
Is it complicated to set up or use?
Not at all! Seurico™ is designed for ease of use. Simply plug it into your phone and sweep the room. There are no intricate setups or confusing buttons involved.
Can Seurico™ detect non-visible light sources?
Yes, Seurico™ can effectively detect and capture non-visible light sources, ensuring even the most discreetly hidden devices are identified.
How portable is the device?
Seurico™ boasts a pocket-sized design, making it effortlessly portable and perfect for travel. Whether you're on a business trip or a vacation, it's the ideal privacy-protecting companion.
What type of hidden devices can Seurico™ detect?
The device is adept at detecting a variety of concealed cameras, including pen cameras, clock cameras, lighter cameras, and more, ensuring a comprehensive safeguard against surveillance threats.
Can Seurico™ be used in any room or setting?
Absolutely. From hotel rooms and offices to Airbnb accommodations and personal homes, Seurico™ is versatile enough to be used in any environment.
How do I charge Seurico™?
Seurico™ comes equipped with USB fast charge capabilities. Use any standard USB charger to quickly and conveniently power up your device.
Are there any indicators or alerts when a hidden device is found?
Yes, when Seurico™ detects a hidden device, it signals the user through its interface, ensuring immediate awareness of any privacy threats.
Is Seurico™ endorsed by any professionals in the security industry?
Indeed, Seurico™ has received a strong endorsement from James R. Kensington, a globally recognized security expert. He praises its accuracy, reliability, and essential role in modern privacy protection.
Package Includes: 1 x Seurico™ Infrared Hidden Devices Detector