Lazy Drawstring Makeup Bag
Lazy Drawstring Makeup Bag
It's An Exceptionally Spacious Bag That Can Fit In Extremely Small Spaces!
Do you have an upcoming event or adventure but don't have sufficient space for all your cosmetics? 
Smartly pack and pick every important item with you with this space-saving Drawstring Makeup Bag!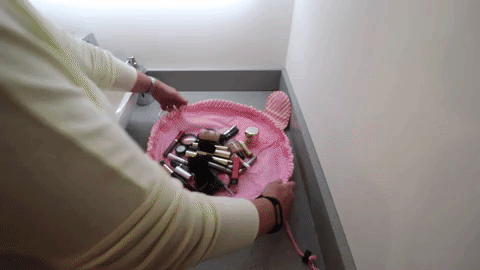 This adorable and beautiful cosmetics bag is totally intended to store and sort out all your cosmetics for you in a convenient way! 
Now you can lightly pack for each outing alongside the needed confidence and elegance.
This bag offers exceptional space that can fit in tiny spaces!
Take your basic cosmetics with you everywhere to brilliantly pack with the Drawstring Makeup Bag! 
Remarkable extra room in quite a little pack! 
Develop from top-notch Polyester texture making it strikingly delicate to contact without trading off its durability.
Designed with consideration to portability so you can consistently keep it inside your travel bag without occupying an excess space! 
It comes with a special dual-layered enclosure that will protect your cosmetics and will keep them from unintentionally dropping from the bag!
It's an incredible cosmetics bag that should always be with you when going out on an adventure.
Appear stunning anywhere you go and enjoy light traveling with this terrific Drawstring Makeup Bag!

Space-saving minimalist design!
It features an astounding space-saving design that will intuitively pack every one of your cosmetics into one slick and convenient bundle!
Just pull both closures of the drawstrings and rapidly seal the fold while concealing the strings underneath! 
Now you would no longer require an additional bag for your cosmetics!
This item is undoubtedly the multipurpose cosmetics storage solution we've all been expecting!
Be a trendsetter, pack brilliantly and keep your cosmetics in a manageable space using this popular Drawstring Makeup Bag now!