Welcome LED Car Logo Lights Fit for All Model
Welcome LED Car Logo Lights Fit for All Model
Perfect fit! Genius product.easy upgrade.
About this item
👉INSTALLATION EFFECT: When you open the car door,you will see the Bright and vivid logo light projects on the ground. it will be turn off when you close the door.
👉HD PROJECTION FILM & HD LENS: Using a high-brightness Led bulb with 500 lumens, the light passes through a high-definition heat-resistant film, and after passing through an ultra-high-definition lens, an undistorted and decolorized pattern will be displayed on the ground.
👉BETTER CHIP DECODING TECHNOLOGY: Used newest car decoding circuit chip, will not conflict with car software. Use high-quality circuit boards and parts, which can carry more current, absolutely eliminate the noise caused by high current.
👉HIGH HEAT DISSIPATION EFFICIENCY: Cooling system is made with nano-superconducting aluminum heat sink, low-power chip and Led bulb, parts that stabilize the current to ensure high temperature resistant and heat dissipation efficiency.
👉Plug and play! No drilling, no disassembling, no damage to your car. Some models need converted wiring, but don't worry, the package already contains 4 converted wiring to ensure that customers can easily and smoothly install.
Fitment:
Fits for BMW  ALL MODEL Series
Fits for AUDI  ALL MODEL Series
Fits for BENZ  ALL MODEL Series
Fits for TRSLA  ALL MODEL Series
Fits for LEXUS  ALL MODEL Series
Fits for NISSAN ALL MODEL Series
Fits for HONDA ALL MODEL Series
Fits for HYUNDAI  ALL MODEL Series
Fits for KIA  ALL MODEL Series
Fits for TOTOTA  ALL MODEL Series
Fits for VOLVO  ALL MODEL Series
Fits for FORD  ALL MODEL Series
Fits for MAZDA  ALL MODEL Series
Fits for BUICK  ALL MODEL Series
Fits for CHEVROLET  ALL MODEL Series
Fits for CADILLACS  ALL MODEL Series
Fits for INFINTI  ALL MODEL Series
Fits for JEEP  ALL MODEL Series
Fits for SUBARU  ALL MODEL Series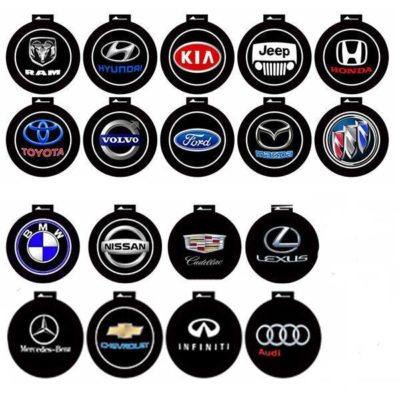 Package included: 1pcs/2pcs/4pcs
BMW Logo
M Logo
M-Performance Logo
Product Display