NailArti Adjustable Nail Clipper
NailArti Adjustable Nail Clipper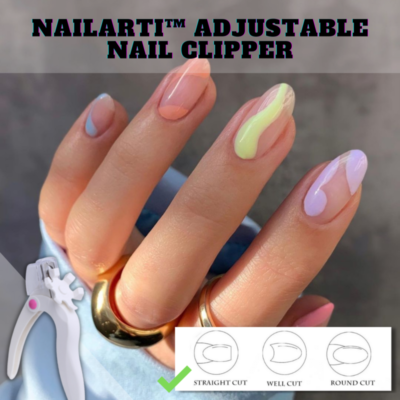 Cut The Perfect Shapes Of Nail Extensions With  NailArti Adjustable Nail Clipper
Trying hard to get perfectly shaped nail extensions? Try NailArti Adjustable Nail Clipper, designed to guide you in getting perfect shapes & accurate length for your nail extensions in no time!
Cut The Perfect Nail Shapes!  
The NailArti Adjustable Nail Clipper is designed to cut & trim nail extensions into different shapes & length, such as square nails, round nails & french nails. Other than that, it also comes with 6 different nail length! Easily cut the accurate shape & length of your nail art like a pro now!
Easy Installation 
The installation is easy. Simply install the buckle on the back of the wheel with the groove facing upwards,  then gently push down & you're done!
Easy To Use
Simply cut different shapes at different angles & turn to adjust to the length that you want!
Round Cut:
Straight Cut: 
Well Cut: 
High-Quality Material
NailArti Adjustable Nail Clipper is made of high-quality plastic & stainless steel material that is strong enough for long time use. On top of that, with its smooth & sharp cutting part, you can easily trim your nails into different shape in no time!
Humanized Designs 
The NailArti Adjustable Nail Clipper has a protective cover which can prevent nails you trimmed from scattering everywhere! Moreover, it also has a delicate design of nail rest, which helps you in cutting your nails more accurately! Most importantly, you can also change the dull blades with new ones!
Instantly Cut Your Nail Extensions Like A Pro With NailArti Adjustable Nail Clipper
Get Yours Now!!
---
PRODUCT SPECIFICATION
Material: Acrylic
Product Size: 11.7*21.2CM
Color: Black, White, Pink
Package Inclusion/s: 1PCS NailArti Adjustable Nail Clipper