PORTABLE ELECTRIC DRYHERB GRINDER
PORTABLE ELECTRIC DRYHERB GRINDER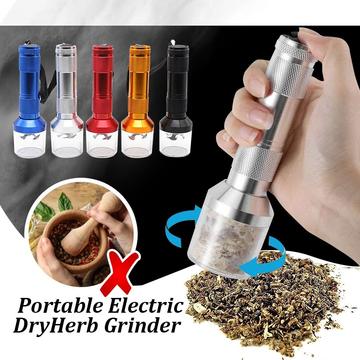 Do you want a quick, easy and extra convenient way to grind your dry herbs? We got you! Introducing the Portable Electric Dry Herb Grinder
Portable Electric DryHerb Grinder is a MINI COMPACT and PORTABLE GRINDER that is SPECIALLY MADE for you to EFFORTLESSLY GRIND your DRY HERBS anytime, anywhere for a more CONVENIENT SMOKING.
This TINY GRINDER is SPECIALLY MADE with HIGH-QUALITY material making it 100% STURDY and DURABLE despite of its size. It has a RAZOR-SHARP METAL TEETH that can EFFECTIVELY GRIND QUICKLY for a SMOOTH and EFFICIENT grounds.
It also has a PREMIUM MESH SCREEN FILTERS that STRAINS the RESIDUE for a FINER GRINDS. It is GUARANTEED to be SUPER FAST and EASY to use that it can just take you SECONDS to make a FINELY GRINDED herbs.                            
Portable Electric DryHerb Grinder has an ULTRA-STRONG LID for a SAFER and MORE SECURED and FIRMED GRINDING. We offer different 5 colors to choose from. It is LIGHTWEIGHT and EASY to BRING and USE ANYTIME, ANYWHERE. It is MESS-FREE and SUPER HANDY!