Professional Strong Repair Adhesive
Professional Strong Repair Adhesive
INSTANT STRONG BOND
The Professional Strong Repair Adhesive works like a magnet, locks into place, and tightly holds heavy objects in just under 10 seconds! Experience its extreme power as a universal bonding agent with instant speed, extreme strength, and shockproof flexibilities.
ALL PURPOSE ADHESIVE
This versatile adhesive is suitable for any various materials such as rubber and can also be used for bonding plastic, wood, metal, ceramic, leather, paper and more.
LONG LASTING
This professional adhesive can fix anything with its instant strength in a single drop! The The Professional Strong Repair Adhesive combines cyanoacrylate technology to ensure durability whilst drying transparently.
EXTRA STRENGTH FORMULA
The Professional Strong RepairAdhesive is not only water and dishwasher resistant but also formulated for shock and temperature resistant. This proves ideal for use in a wide range of locations.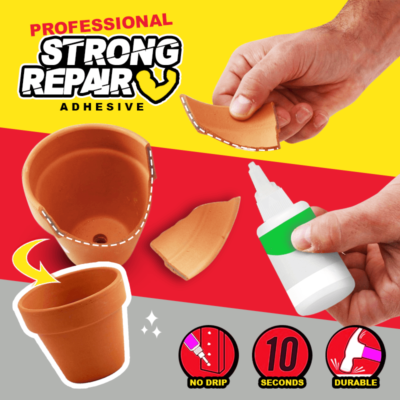 Adhesive Type: Instant Glue
Curing Time: 8-10 Seconds
Shelf Life: 12 Months
Net Weight: 50 g
1 x Professional StrongRepair Adhesive