Revolution Toaster
This product is from a year ago and is in our warehouse, while supplies last.
Click on the daily necessities navigation bar and you will use the discount code for $10 off purchases over $50.
As a gift for your family, this limited stock Toaster will be perfect!

😋 MAKE DELICIOUS FOOD IN SECONDS!
One of Oprah's Favorite Things for 2022!
The ultimate toasting experience, with custom settings for 34 bread types and a personalized home menu to keep your favorites just a tap away.
InstaGLO® heating system heats up fast, searing the bread without drying it, so it's crunchy on the outside, yet soft and delicious on the inside.
All new Gluten Free setting, with algorithms tailored to the chemistry of non-gluten ingredients, for better results.
Includes modes for our Panini Press and Warming Rack accessories. Make breakfast, lunch, dinner and even dessert in the world's most versatile toaster.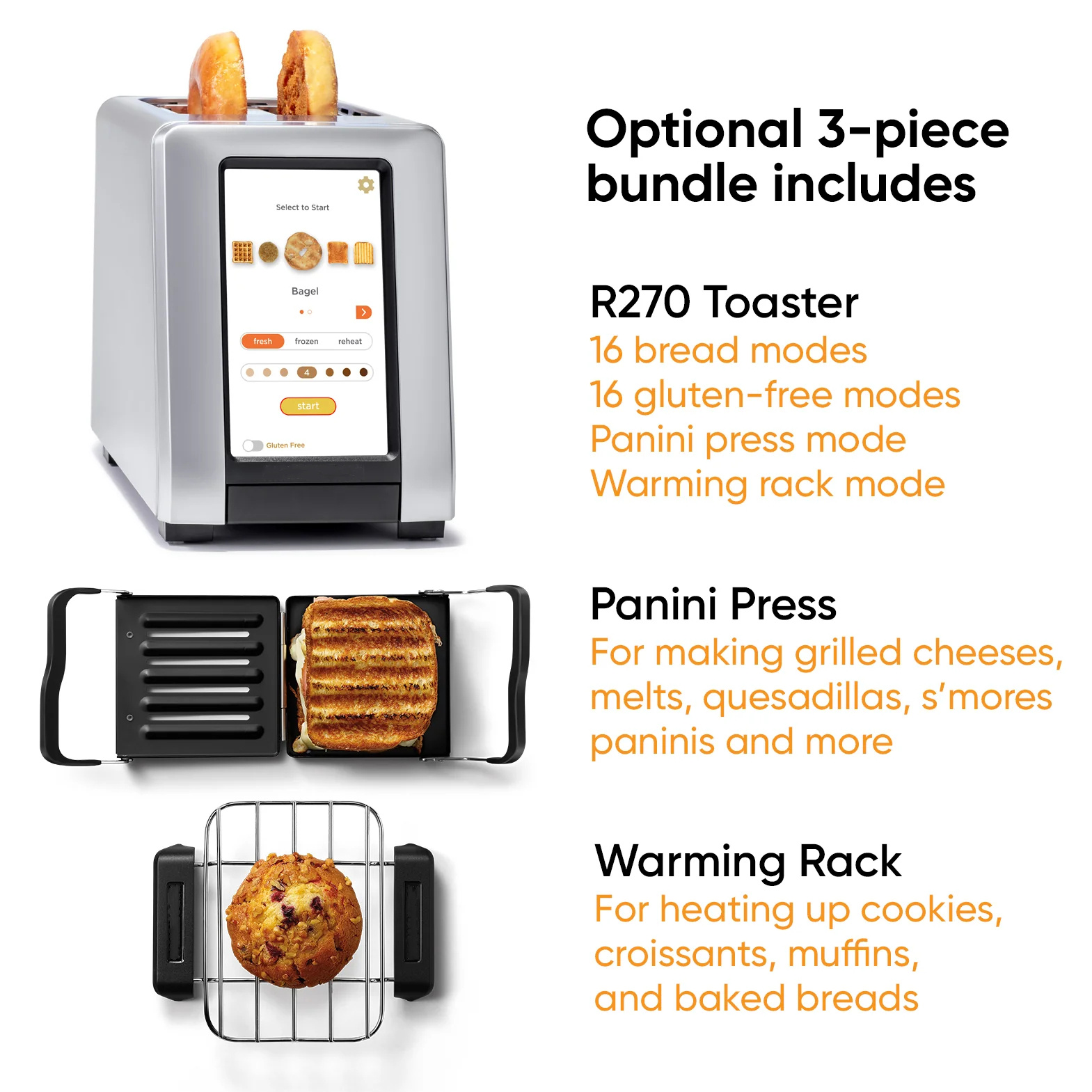 Features:
2-slice stainless steel toaster with brushed, platinum-colored finish
Exclusive ultra fast and efficient InstaGLO® Heating System
All new food settings: white bread, bagel, large bagel, waffle, iced toaster pastry, parbaked english muffin, large bagel, wheat bread, multigrain bread, sourdough bread, cinnamon swirl bread, toaster pastry, pancake, toaster strudel, protein waffle, sandwich thin, artisan bread
Universal Gluten Free mode for all food settings
Dedicated modes for Panini Press and Warming Rack (accessories sold separately)
Customizable home menu with spaces for your top 10 foods
3 toasting modes (fresh, frozen, reheat)
7 toasting shades
Adjustable screen brightness and chime volume
Auto lift and lower
Countdown timer and happy finishing chime
Easy-click, removable crumb tray
"Time to clean" crumb tray reminder
Analog or digital clock sleep screen
Smart toasting algorithm with temperature sensor and real-time adjustments
Toast anything your way, even gluten free.
Dozens of new modes for all our most requested foods, like cinnamon swirl toast, sourdough bread, frozen pancakes, panini press and so much more.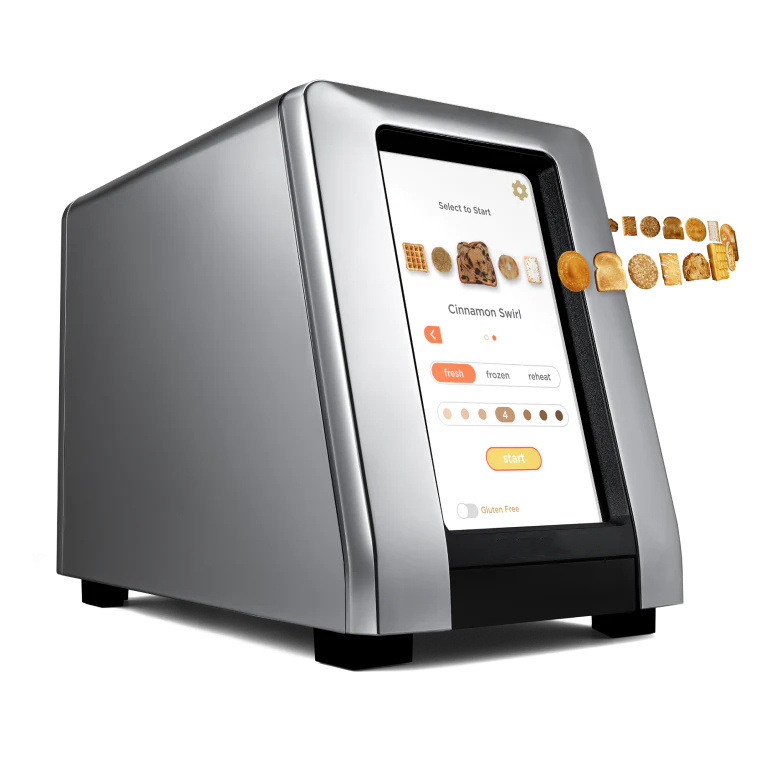 Fast
InstaGLO® Technology delivers better flavor by searing to lock in moisture, with less waiting or retoasting.
Beautiful
Brushed platinum finish and large, full color display enhance your countertop.
Fun
Simple interface, touchscreen options, countdown clock and happy finishing chime bring a little bit of joy to toasting.
Go ahead, pick favorites.
Customizable home menu allows you to pick your top 10 from our library of 34 bread types and modes.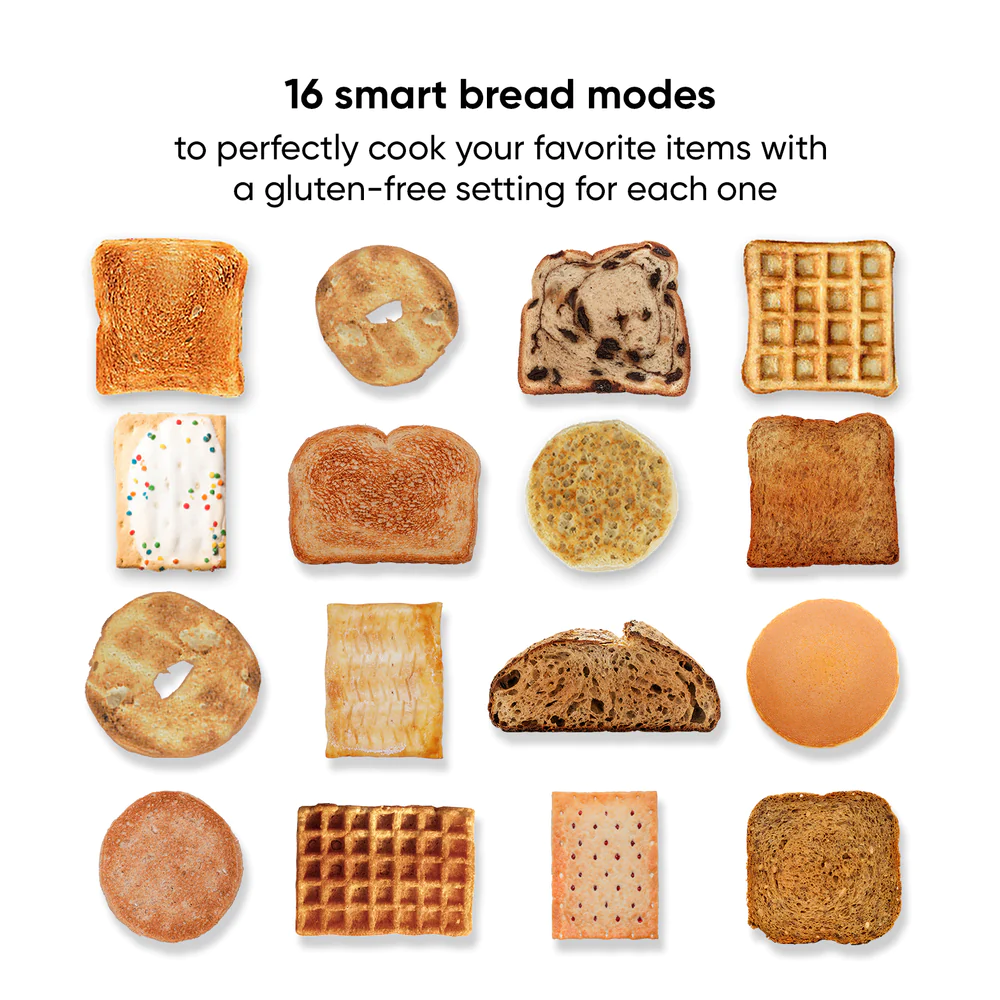 Toasting, elevated.
Smart, auto-lower-and-lift mechanism adjusts to the height of your selection, so you never have to reach into the toaster with a fork again, even for the small stuff.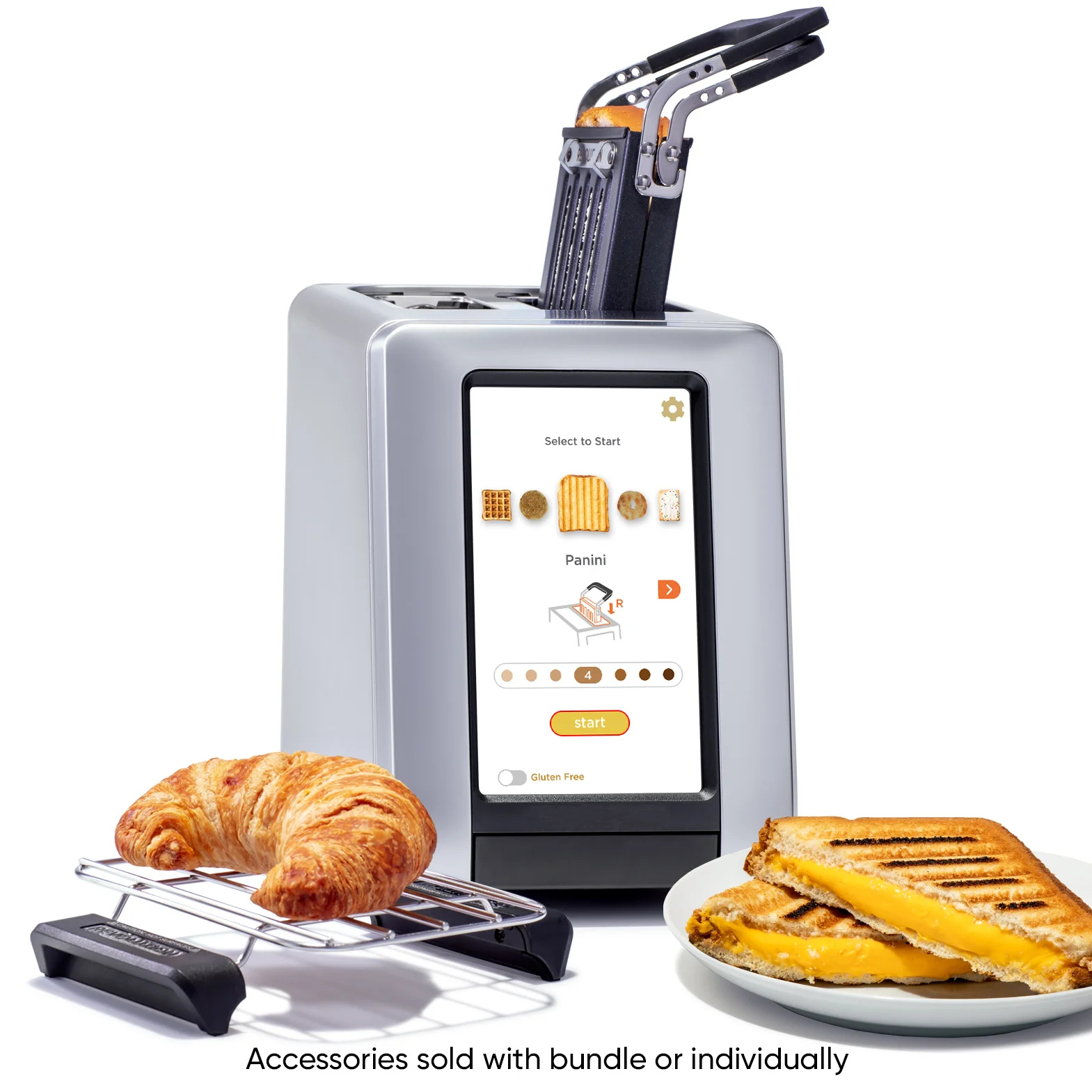 More than a pretty face.
Intelligent algorithms adjust for optimal time, temp and placement of heat (different on the top and bottom of bread) for remarkable taste.
Screen time.
Sleep mode includes choice of digital or analog clock.
Safety first.
Two-tap unlock ensures no accidental toasting.
Crumb reminder alerts when you when it's time to empty the tray.
UL Certified to the highest standards of safety.
Set it and never forget it.
On-screen countdown clock so your wait time is no longer unknown. A happy finishing chime lets you know your toast is done even when you're not looking.
Technical specifications:
Product Dimensions: 11.6?L x 6.1?W x 8.4?/li>
Weight: 6.4 lbs
Voltage: 120Vac/240Vac