Self Stirring Mug
Self Stirring Mug
This is not only a lifesaver to coffee lovers but also a creative present to family or friends.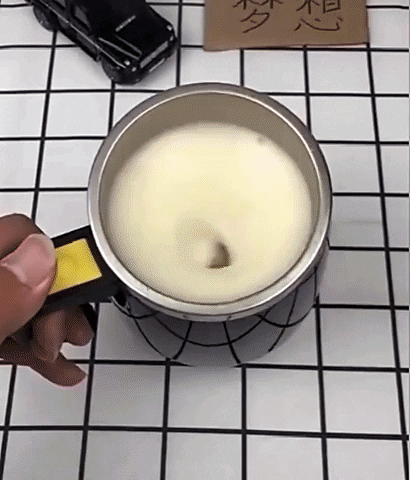 An Auto Stirring Coffee Mug: No more stir the beverage by spoon, all you need to do is simply press the yellow button and make it stir, wait and drink in a minute!
Completely Melt Mixing Powders on the Bottom: Mix white coffee powder, milk tea, coffee, raspberry ice tea powder, hot chocolate, or cider by the spoon, but always find the powders are not completely melted? Let's end it with this cup! Just hit the button and it stirs up the liquid together, it won't leave anything on the bottom. Super convenient!
Easy to Clean:
 I guess COFFEE is a must-have? You need this 15oz large mug to fill up your energy. Meanwhile, this food-grade stainless steel coffee mug is safe and durable.
 The cleaning is super easy, simply washing it with running water is ok.
Creative Present: Is it a headache when there is a Birthday, Anniversary, Thanksgiving, Christmas that you need to send a gift? Why not take this self-mixing coffee mug? The novel, funny but also practical, what an ideal present.