Welderr Magnifying Lenses
Welderr Magnifying Lenses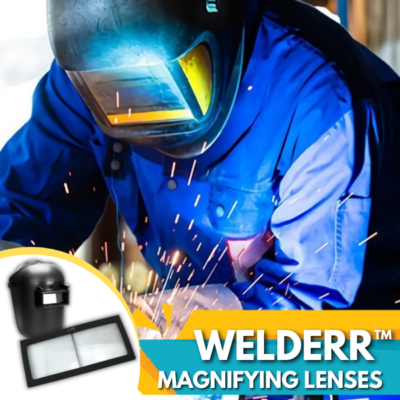 Stop Wearing Glasses Under Welding Helmet! Welderr Magnifying Lenses is what you need to start welding with clarity!
Our Welderr Magnifying Lenses bring your work closer to you. One big problem for welders is utilizing the correct eyewear.
Welders who have prescription eyeglasses struggles to wear their regular glasses with a welding mask.  With our Magnifying Lenses, you will not get enough of this!
CRYSTAL CLEAR VISION – our Welderr Magnifying Lenses can instantly switches and give welder's with prescription glasses a clearer vision under the welding helmet!
EASY INSTALLATION – just simply slide it inside of the welding helmet beneath the clear transparent cover and you are all equipped to start welding!
LIGHTWEIGHT – Welderr Magnifying Lenses is compact sized and lightweight, it still maintains comfort when it is added into the helmet.
Welderr Magnifying Lenses is designed to make welding a better experience for people who needs magnifying for precision work! These Magnifying Lenses can be used as replacement lenses for outer glasses protection. It offers protection, clarity and magnification.
Never wear prescription glasses under your welding helmet again! Pick up this quality Welderr Magnifying Lenses to supplement your toolbox now!
---
PRODUCT SPECIFICATIONS
Weight: 100g
Material: Poly Carbonate
Lens Color: Clear
Helmet Type: Welding Helmet
Package Inclusion: 1 pc Welderr Magnifying Lenses
Welderr Magnifying Lenses
| | |
| --- | --- |
| Lens | 1 Magnifiying Power, 1.25 Magnifiying Power, 1.5 Magnifiying Power, 1.75 Magnifiying Power, 2 Magnifiying Power, 2.25 Magnifiying Power, 2.5 Magnifiying Power, 3 Magnifiying Power |
Related products