Electric Car Jack Kit [Limited Time Price]

This electric-hydraulic jacks are made by heavy-duty thick steel plate with integral anti-oxidation coating body which is rust-proof and wear-resistant. The large contact surface design enhances the stability, and the reinforced solid screw prevents the electric car jack from tearing or twisting. An essential tool for outdoor emergencies.

The electric car jack lifts the 11023 lbs car to its maximum height (lifting range: 6.1-7.7 inches) in just one minute. The electric impact wrench can quickly and safely remove screws and replace tires in 3 seconds. The built-in inflation hose of the jack can provide enough gas for the flat tire, you can monitor the tire pressure at any time through the digital display screen on the jack.

Two ways to get power: car battery or car cigarette lighter, which allows any adult to change and repair tires at any time on the garage/highway. Permanently lubricated DC motor can ensure the stable operation of electric car jack. The LED lights built into the jack provide enough brightness for anyone to easily change tires in dark conditions. The electric hydraulic jack adopts a fully enclosed design, which is completely waterproof and does not leak oil.

When the 5Ton jack reaches the maximum height, it will automatically stop working. The self-locking deconstruction of the jack can prevent the car from falling suddenly and ensure the safety of the vehicle and the person. The protruding particles of the cross-shaped groove on the jack head can increase the frictional force. Built-in circuit breaker in the jack protects your vehicle from overload.

The red triangle outside the box of the electric hydraulic jack can be used as a warning sign. The Velcro on the outside of the box prevents the toolbox from sliding in the trunk of the car. When the car is violently bumped, the tire changing tool is still perfectly and precisely embedded in the box. The Regular cuboid toolkit is very space-saving and can be placed under the car seat.After placing the order, we will deliver it within 7-15 days.

Car jack kit is an indispensable helper for garages, farms, highways and long-distance travel. For people who are far away from car repair shops or who like long-distance travel, you must not miss this electric jack tire change emergency tool. From now on, you will bid farewell to the tedious manual disassembly, and any adult can easily change the tire without asking for help from others or going to the repair shop to change the tire.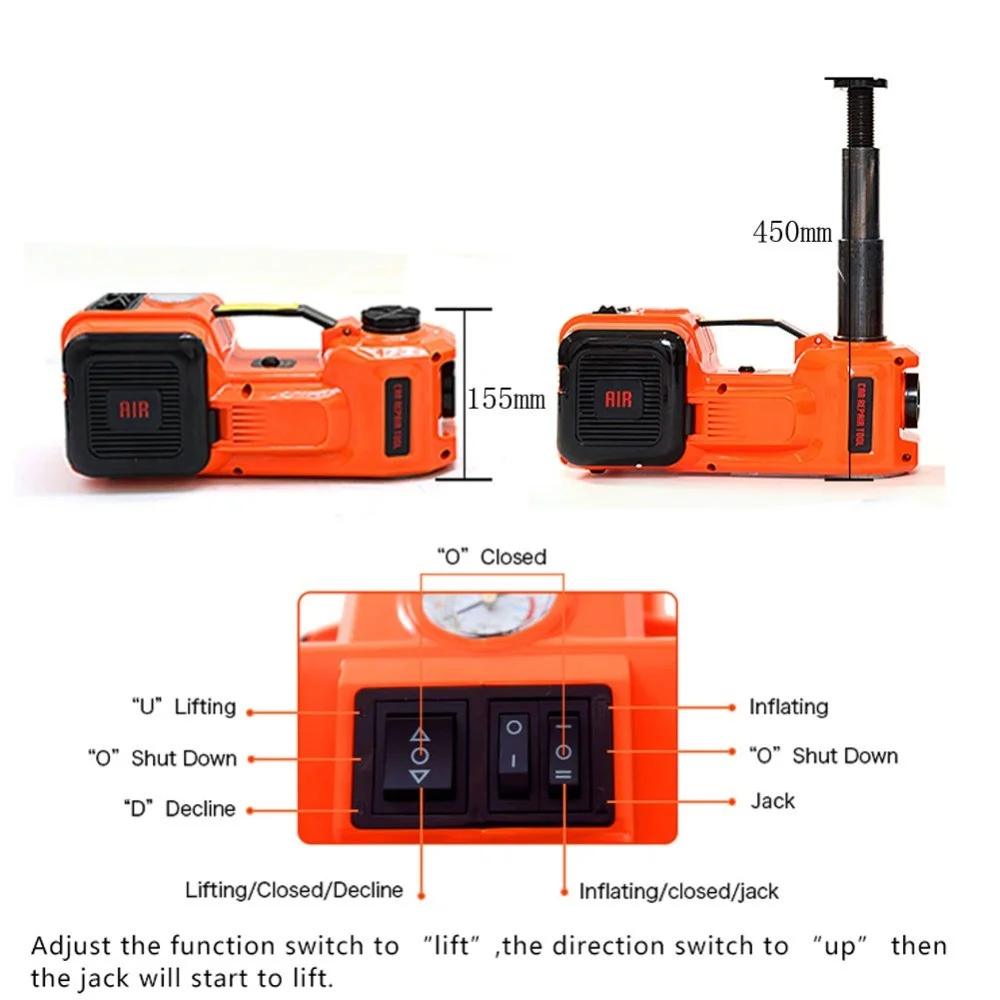 Product Specifications:
Material: metal, plastic
Working voltage: 12V DC
Maximum capacity: 5 tons
Lifting range: approx. 15-43cm / 5.9"x 17"
Jack size: approx. 30 x 17 cm / 11.8 inches x 6.7 inches
Package weight: approx. 5.69 kg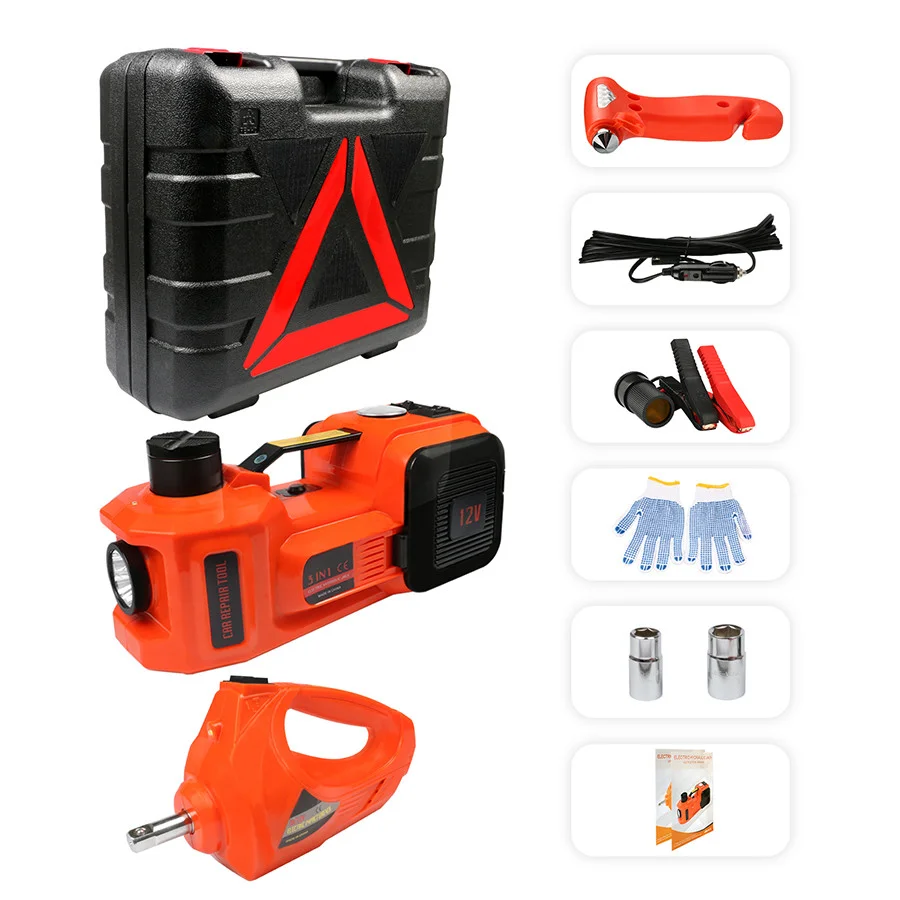 Package Included:
1x car electric jack with controller
1x instruction manual
1x valve handle
1x power cord with clip
1x cigarette lighter power cord