KINETAC™ Portable Kinetic Molecular Heater
The climate problem is getting worse, Please prepare preventive measures in advance – the latest solutions in 2023
When facing extremely cold temperatures and blizzard conditions, it's important to realize that they pose significant challenges not only to your indoor temperature and vulnerable roof but also to vehicles exposed to such frigid weather. These challenges include frozen door handles, nearly invisible windshields due to heavy snow, and in the most severe cases, vehicles may find themselves completely buried under a daunting 1.3 meters of snow, further underscoring the need for reliable solutions to cope with the cold.
Fortunately, there is an extraordinary solution now available – the Kinetic Molecular Antifreeze Heating Device! It can keep your home warm and prevent roof snow buildup. You can also place it in your vehicle to prevent freezing and being buried under snow.

Key Technologies of the Kinetic Molecular Anti-freeze Heater:
The KINETAC™ Portable Kinetic Molecular Heater features a internal suspension system. When activated, Internal structure causes molecular motion. The molecular movement releases kinetic energy, which not only prevents water molecules from freezing but also serves the fundamental task of heating the environment.

When the internal structure causes molecules to generate kinetic energy, the kinetic energy they generate is harnessed and efficiently converted into mild, warm heat. It's a testament to cutting-edge technology at work, seamlessly transforming kinetic energy into the cozy heat that envelops your space, ensuring a comfortable and inviting atmosphere.
🔥Adjustable Thermostat: Unlike most portable heaters, KINETAC™ Portable Kinetic Molecular Heater features an adjustable thermostat, allowing you to customize the temperature to your preference. You can set this thermostatic heater temp from 60°F to 90°F, enough to support warmth for you in the cold winter. You can easily control the heat output for optimal comfort.
🔥Overheat Protection and LED Display: KINETAC™ Portable Kinetic Molecular Heater is equipped with safety features such as overheat protection, ensuring peace of mind while using the heater. When the temperature sensor detects that the surrounding environment is above 95 ℉, it will automatically turn off. Electric heater adopts humanize design, with a high-definition LED digital display, you can accurately understand the temperature you set.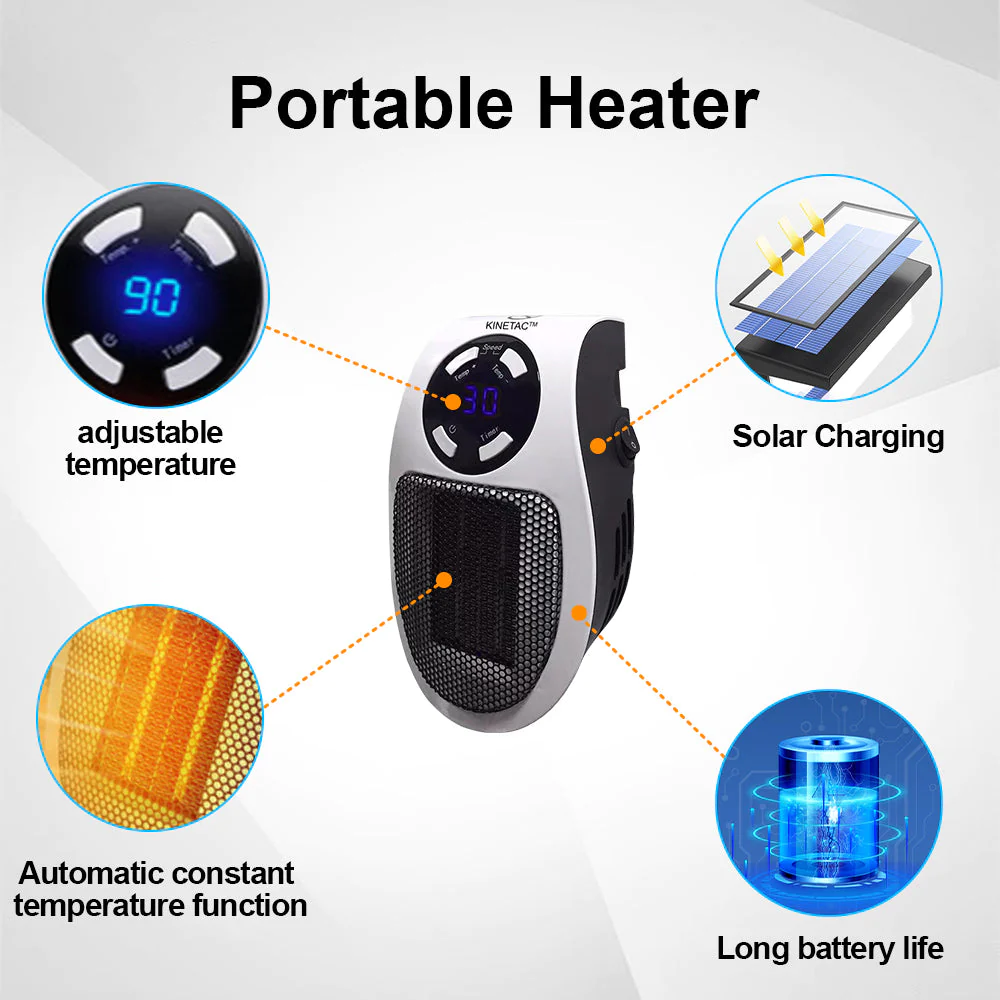 Customers' lives have changed after using KINETAC™ Portable Kinetic Molecular Heater:
I bought this product just in time for the first (of many!) snows and ice in Erie, PA – a few days before it arrived we already had a thick layer of ice on our handlebars and The windshield was also frozen. By the end of the day, there was a thick layer of ice on top. We then had to work in the parking lot for over half an hour. This de-icer can melt almost any ice cube without any effort required. It's also wide enough to cover the rear doors and rear windows, leaving no annoying ice patches anywhere. Great product! highly recommended! (As someone who moved from Florida who moved up north, this works wonders! This has to be one of the best investments I've ever made especially since my old car tends to get icy real quick)
 –⭐⭐⭐⭐⭐Michigan, Jordan Jones
I'm very happy to get this. It came in just in time for me to use during the ice storm that lasted the entire month. I'm a 74-year-old woman who lives alone and I don't have the energy or time to clean my car all morning and just go to the grocery store to pick up a few things. Now, I get up every morning and get in my car like winter never came. My neighbors are still scraping thick ice and snow off their car windows, and I feel so bad that I'll send each of them a link to purchase.
 –⭐⭐⭐⭐⭐London, Caleb Austin
What makes KINETAC™ Portable Kinetic Molecular Heater the best choice?
Remote control switch
Will not interfere with or affect electronic equipment in the house or car
No radiation, no side effects on the human body
360° all-round de-icing, defrosting and heating
Does not take up space and easy-to-install
Two power supply modes: solar power and 30-minute fast chargings
Preventing fogged car windows
The fuselage comes with its own charger, eliminating the hassle of charging cables
The best heating options for scenarios like unexpected power outages,
your car, the living room, office, outdoor work, parties, and adventures
The unique anti-slip adsorption design on the back allows it to be placed stably in any position
You can customize the temperature according to your preference and comfort, and the adjustable safe temperature range is 60℉ to 90℉
Equipped with safety features such as overheating protection, when the temperature sensor detects that the ambient temperature is greater than 95℉, it will automatically shut down, ensuring more peace of mind when using the heater